Khloé Kardashian's celebrity Tinder: She'd swipe right on Leo but reject the Rock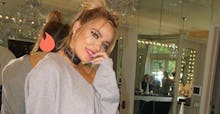 One of the most well-known Tinder archetypes is the dreaded Auto-Liker: someone who swipes right on virtually everyone who comes their way and then waits until the matches roll in to sift through the actual profiles. It's a lazy method of using Tinder, and frankly there should be a law against it.
Khloé Kardashian understands this. In a recent post on her app, the star swiped right on just one of the four men who popped up in a round of imaginary "celebrity Tinder."
Khloé was faced with four (very random) choices: Dwayne "the Rock" Johnson, Jaden Smith (lol), Leonardo DiCaprio and Fetty Wap. Here is how she swiped:
The Rock: Left. "I love the Rock as a person, but I'm just not sexually attracted to him."
Jaden Smith: Left. "I'm only saying no because he's like my little brother so it's weird. In another era, I might have said yes but not in this circumstance." (Smith is 18.)
Leo: Right. "I feel like Romeo + Juliet sealed him as a right swipe for the rest of my life."
Fetty Wap: "A no for me, but I do love to work out to his music!"
It must be said, Khloé made the wrong choice here. Although Leonardo DiCaprio might have been hot as a young heartthrob in Romeo + Juliet, that was 20 damn years ago. Nowadays he wears headphones and vapes while hooking up with women, which is just rude. A better choice of right swipe would have been the Rock, who is a sexy DILF.
Nevertheless, props to Khloé for treating the right swipe with the gravity it deserves! Her 25% acceptance rate is very respectable. It's just one percentage point higher than Wesleyan University's.