Katie Ledecky hires professional medal holder Bryce Harper to watch her play baseball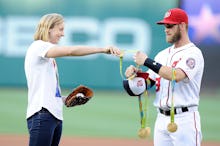 Though the 2016 Summer Olympics have come to a close, decorated swimming champion and local hero Katie Ledecky must still occasionally perform rituals of spectacle to appease her thousands of adoring fans.
And when those appearances require some form of physical exertion, like her throwing of the ceremonial first pitch at a recent Washington Nationals game, lucky commoners like famous baseball player Bryce Harper are sometimes given the honor of holding the 5.5 pounds of jewelry Ledecky carries everywhere she goes while she does her thing.
Ledecky's pitch made it over the plate, but her duties as an ambassador of athleticism were far from over.
"The players wanted pictures with me, and it was kind of awkward for me because I'm such a big fan of theirs," 19-year-old Ledecky, who won four gold medals and one silver in Rio de Janeiro, said. "I don't really see me in that position yet, so it was fun to get some pictures and meet them all."
Harper, for his part, seemed customarily honored to have been able to lend a hand.
"Was a pleasure holding something so valuable and important to this great country," he captioned a shot of the moment on Instagram. "2020 Olympics, here I come, I need to get 1 of my own so i don't have to just hold Katie's!"