MTV VMAs 2016 Start Time and List of Performances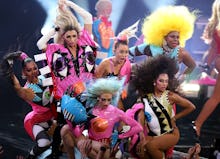 The MTV Video Music Awards are upon us again. The annual crowd-voted award ceremony will be broadcast live at 9 p.m. Eastern on Sunday from Madison Square Garden in New York City.
Devoted music fans will want to get their butts in front of a television hours earlier — the 2016 VMA pre-show begins at 8 p.m. and red carpet coverage starts at 6:15 p.m. 
There's no word yet on what the stars will be wearing as they pass through the paparazzi-lined gauntlet into the event space (and safety) — but regardless of the ensembles, this is a portion of the evening that merits close scrutiny. The outfits! The potential for baby bump watching on female celebrities, a favorite pastime of the internet and media alike! 
There's a lot to be jazzed about when it comes to the 2016 VMAs — DJ Khaled will host the pre-show and probably inspire us all, as he is wont to do! Kanye West "will attend"! 
But probably the most exciting performer slated to take the stage Sunday is comeback artist and newly announced subject of a Lifetime biopic, Britney Spears. What will she do this year? Mercilessly helicopter a python? Make out with an older female icon, such as Helen Mirren? Only one way to find out: Watch the show.
Here's a list of artists performing at the 2016 VMAs, as reported by AM New York:
- Rihanna
- Future 
- Ariana Grande with Nicki Minaj
- Nick Jonas
- The Chainsmokers
- Lukas Graham
- Alessia Cara
- Jidenna
Enjoy the show!