Melody, the newest American Girl Doll, is a black girl living in 1963 Detroit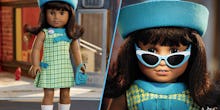 On Thursday, the Mattel-owned American Girl Doll rolled out the newest addition to its "BeForever" collection of dolls and books from different periods of American history — the newcomer is named Melody Ellison, and she's a 9-year-old black girl living in Detroit in 1963. 
Before Melody joined the collection, little kids of color had limited choices if they wanted a historically accurate doll who was like them. The only other black doll in the collection is Addy Walker, whose backstory is that she and her mother escaped slavery in the 1860s — a traumatic history to attach to a toy. 
Brit Bennet examined Addy's presence in the American Girl collection in a piece for the Paris Review in 2015, writing "If you were a white girl who wanted a historical doll who looked like you, you could imagine yourself in Samantha's Victorian home or with Kirsten, weathering life on the prairie. If you were a black girl, you could only picture yourself as a runaway slave."
With Melody, though, the people behind the dolls hope to offer kids a chance to learn about life in 1960s Detroit — according to an announcement released on Thursday by American Girl, Melody is a "civil rights believer, chorus leader, and daughter of Detroit."
To "ensure the historical accuracy" of Melody's look and backstory, the American Girl company called on a "six-member advisory board" that included the late civil rights activist Julian Bond to "review and provide input on all aspects of Melody's development."
Even Melody's hair was under strict scrutiny — USA Today reported that the team behind the doll "changed the texture of the doll's hair several times to ensure it reflected how her hair might actually have looked."
Juanita Moore, president and CEO of the Charles H. Wright Museum of African American History and one of the consulting authorities in Melody's design, explained the choice to give Melody straight hair.
"In the late '60s, the majority of African-Americans did have straight hair," Moore told USA Today. "It may not have been bone straight, but it was straightened."
Of course, as with all of the dolls in American Girl's world of aspirational learning-through-consumerism, Melody may be well-researched and historically accurate, but she's not accessible to everyone — the Melody doll and book, sans extra accessories, starts at $115.