'Stranger Things' theory says the characters exist in the same universe as 'Parks and Rec'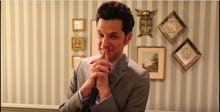 For as highly praised as Netflix's Stranger Things is, there are so many questions that linger at the end of its first season. We still know next to nothing about the creepy alternate dimension, the Upside Down; how the Demogorgon came to be; if Will is going to be alright after vomiting an interdimensional slug in his bathroom; and if Eleven is still alive. 
Perhaps the most pertinent question of all is: Why does Nancy's sleazy boyfriend Steve look exactly like Jean-Ralphio from Parks and Recreation? Some have — quite justifiably — theorized that Steve is Jean-Ralphio's father, given the Netflix series is set in the '80s. Plus, there's no way that wavy hair is a mere coincidence.
Now we have the answer from Jean-Ralphio himself: It's true. 
In his visit to The Late Late Show on Tuesday, actor Ben Schwartz — who played Jean-Ralphio — jokingly confirmed the shows exist in the same universe, explaining that Pawnee, Indiana's hottest mogul spent some time in the Upside Down as well. 
"Jean-Ralphio probably lived 50% of his life in the Upside Down," Schwartz says. "But he was, like, super chill. He was super cool in the Upside Down. You know what I mean? Like, he ran that shit. He was super friends with the monster. When he met the monster it was like a little kid, so like, by the time it was a full-blown monster, they had like a dance together." 
While Stranger Things has yet to officially be renewed for a second season, Schwartz made the ultimate promise: He's going to appear in the next 99 seasons of the show. 
"I'm assuming there's a 100% chance of me being on Stranger Things seasons two through 100," he concluded. 
You can check out the mind-blowing admission from Schwartz below: