Karaoke video shows Gaten Matarazzo, Dustin on 'Stranger Things,' singing like a star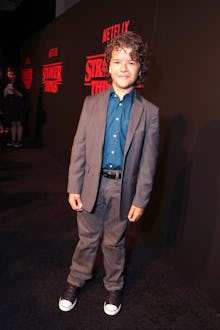 It was clear just from following them on Instagram that the group of young actors in Stranger Things are a dream team-level squad of BFFs. What we didn't know is that some of them could go on to have very successful singing careers — if they so choose, that is.
Listeners were floored at a recent Les Misérables karaoke event when Gaten Matarazzo, who plays Dustin on the critically acclaimed Netflix original series, took the mic for a powerful rendition of "Bring Him Home." A video of the performance went viral this week. 
The emotional ballad has everything it needs: ethereal vocals, a powerful falsetto and an apparent deeper understanding of the song's emotional meaning. At 13 years old, the Stranger Things star is quickly proving to be a man of many talents. But he isn't the only Beyoncé of his group of actor buddies. 
Millie Bobby Brown, who plays the show's elusive Eleven, has been sharing videos of her performing covers of her favorite songs since well before the first season's production. Her appearance and attitude while singing are vastly different than those of her character in Stranger Things: Whereas Brown is a girl with long, brunette locks and a cheery smile, not to mention solid vocals, Eleven is a much more reserved, sometimes creepy character. 
Both actors are entirely capable of holding a crowd, whether it be during a Netflix binge or singing their hearts out.