UChicago said it won't support "trigger warnings" or "safe spaces" and students are livid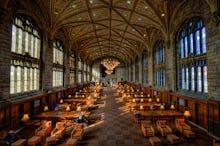 Over the past several years, questions of trigger warnings and "safe spaces" have risen to national attention, becoming emblematic of the divide between conservatives calling for free speech and liberals, supposedly hung up on political correctness. But as fall approaches, the debate is returning to its roots: college campuses.
On Tuesday, Intellectual Takeout reported on a letter University of Chicago Dean of Students John Ellison sent to incoming freshmen, informing students that the university doesn't support "so-called trigger warnings" or "condone the creation of intellectual 'safe spaces.'"
Ellison cites a commitment to "academic freedom" and mentions that safe spaces encourage students to "retreat from ideas and perspectives at odds with their own."
"The members of our community must have the freedom to espouse and explore a wide range of ideas," he writes.
"Our first reaction was disappointment," wrote student body president Eric Holmberg and student body vice president Salma Elkhaoudi in a joint statement via email. 
Holmberg, a junior geography major, and Elkhaoudi, a sophomore economics and human rights double major, said that the university had recently taken lengths to address racism and sexual assault on campus — sending out a campus climate survey and hiring additional Title IX staff. But the letter, they said, takes a step in the wrong direction.
"The most insidious threat to 'freedom of inquiry and expression' on campus right now is not trigger warnings or safe spaces, but rather the heavy-handed suppression of free speech and free press by the university administration," they wrote.
This isn't the first time the university has made clear its stance on "freedom of expression" — in fact, UChicago has a page on its website with that very name. There, university president Robert J. Zimmer and provost Eric D. Isaacs posted a letter in June 2015 to students who had protested that year's alumni awards and barricaded themselves inside an administration building, demanding the addition of a level 1 trauma center at the University of Chicago Medical Center. 
According to the Chicago Maroon, activists from the Trauma Care Coalition had been fighting for the center since 18-year-old activist and community leader Damian Turner was shot in 2010 and died on the way to the hospital.
Tensions reached another peak this past May, when then-student body president Tyler Kissinger faced the possibility of expulsion for allowing his peers to enter and occupy Zimmer's office in protest. 
"The administration is far more fearful of free inquiry and expression than any students we have encountered."
In the wake of these incidents, Holmberg said the school has used private police officers to prevent students from entering the administrative buildings or engaging with university leadership.
"In a very real sense, administrators are the only ones being coddled or protected from uncomfortable situations," wrote Holmberg. "The administration is far more fearful of free inquiry and expression than any students we have encountered."
Holmberg and Elkhaoudi wrote that, for students who aren't marginalized, or have never endured trauma, the world is a safe space — a common point in the clash over safe spaces. 
"A place without safe spaces is a safe space for white men," wrote Twitter user Peter Moskowitz on Thursday. 
UChicago senior Violet Sorrentino suggested Ellison may have added unnecessary fuel to the fire with his letter to incoming freshman, pointing out that trigger warnings and safe spaces already exist on campus — whether the college likes it or not. 
"We already have safe spaces on campus, and many professors notify their students when sensitive material is forthcoming, so this letter isn't actually implementing a ban on these things, it just put forth a kind of superfluous stance," she said. 
Still, Sorrentino said the student body remains split on the issue, with some aligning with Ellison's sentiments, adding there is "definitely a divide on campus."
On Friday, the University of Chicago College Republicans posted a statement on its Facebook page, applauding the letter.
"Neither permitting protests that shut down on-campus speaker events, nor threatening opposing viewpoints through institutional condemnation cultivates a learning environment in which students are encouraged to grow and think critically about about their personal convictions," reads the post.
The group's members added they "unequivocally support the administration's decision to publicly affirm and continue the 126-year tradition of open and challenging deliberation."
But if UChicago wants a diverse body of students, said Holmberg and Elkhaoudi, it has to do its part to create a welcoming learning environment for students of different identities.
"I think we all need to take a step back and understand what trigger warnings and safe spaces are, how little they cost, and how big of a difference they can make in diversifying a classroom community."
Mic has reached out to the University of Chicago for comment.