Here's what the internet is asking about the iPhone 7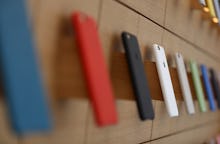 The iPhone 7 is all but guaranteed to get a September release. While a number of the device's supposed features have been reported thanks to months of persistent leaks, many prospective buyers still have some questions for Apple. For example:
Apple is expected to unveil the iPhone 7 on Sept. 7, but the phone's actual release date remains unclear. Most rumors pegged the iPhone 7 to arrive on Sept. 16, but recent speculation pushes the big day back to Sept. 23. Hopefully Apple sets the record straight at its upcoming press conference.
Apple is expected to introduce a dual lens camera on the iPhone 7 Plus that will help mobile photographers take brighter and sharper photos in low-light settings. And it's looking pretty likely Apple will ditch the traditional headphone jack in favor of Bluetooth and Lightning audio output. 
A rumor from last week suggests the iPhone 7 will indeed feature a navy blue option. That remains unconfirmed, but the new hue could be this year's version of rose gold. 
Recent reports suggest the iPhone 7 Pro has been killed off in favor of a stronger version of the iPhone 7 Plus. Don't give up hope, though. John Webber, founder of Carved — an iPhone case-making company — told Mic that he's "got a couple guys over in China that work for [him] and have for about 5 years," and that "they are in contact with numerous factories."
"As far as I know, there may be a third model down the road called the iPhone 7 Pro with the smart connector," Webber said in an email. The smart connector would allow the iPhone 7 Pro to wirelessly transfer data and power to compatible accessories. If Webber is correct, let's hope Apple rolls out the iPhone 7 Pro sooner than later.
We'll find out for sure when the iPhone 7 is (likely) unveiled on Sept. 7.