The future of feminist porn? Virtual reality made by women, for women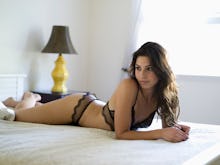 Porn actress Ava Mir-Ausziehen is wearing a lacy black bra. She's sprawled across the bed while performer Lance Hart goes down on her. 
The two are starring in the VR film Empowering Ava, the story of an erotica writer (Mir-Ausziehen) whose partner (Hart) is intrigued by some of the sex acts she writes about. He wants to try them out and Eva is more than happy to oblige. 
When she reclines for a moment of submission, viewers have the option to focus on her reaction to her own mounting pleasure, or to zoom out to ogle Hart's muscular rear end. Neither male nor female perspective dominates the visual experience. 
Is this what the future of so-called "porn for women" looks like? Filmmakers Erika Lust, who is currently planning her first VR porn movie, and Angie Rowntree, whose company Sssh.com released Empowering Ava on August 18, think so. They're starting to explore the potential of erotic VR tech for female audiences. 
There are numerous challenges filmmakers must overcome before VR porn can catch on among female audiences.
For starters, porn audiences in general are still predominately male. Despite a recent rise in the popularity of female-friendly porn, in 2015 the adult content giant PornHub published a report estimating that just 24% of its global viewers were women.  
Today, virtual reality porn is emerging as a lucrative intersection between sex and tech, but so far the bulk of erotic VR filmmaking has focused on the male point of view. As Stefanie Iris Weiss wrote for SheKnows: "it's entirely designed for the male gaze... male porn performers are not visible at all because the viewer is the protagonist." 
Some companies like BaDoinkVR are going a step further than simple POV porn, offering men interactive VR porn aimed at reducing performance anxiety and teaching them to be more attentive lovers. 
But even for female consumers who would enjoy watching women from the male's vantage point, as current VR porn tends to do, the technology itself is problematic. One 2015 study of people watching films with linear visual oscillation, the immersive technique used in VR films and headsets, noted that 38% of surveyed women experienced motion sickness, compared to only 9% of male viewers.
That was the first dilemma porn director Rowntree faced when she set out to make her first VR film. "I personally do not like the headsets," Rowntree, founder of the feminist porn site Sssh.com, said in a phone interview.
That's why Rowntree made Empowering Ava, an immersive virtual reality experience that does not require a headset. Viewers without the headset can use headphones to experience the multidimensional sound and manually zoom in or change focus to explore the space. 
"It's really important to give people the option to watch it on a desktop, iPad, phone or a headset," she said.  
The multi-perspective toggles allow viewers to find the angles they find most appealing, whether that's focusing on the female performers' pleasure or zooming out to relish a view of the male actor's body.
Feminist filmmaker Erika Lust doesn't have her own synopsis or an exact methodology for her VR movie yet. However, she plans to start filming in October with a spherical Vuze camera, a pocket-sized circle with eight cameras embedded around the edges. Then Lust will use audience feedback to develop her technique.
"I want to create smart, female relevant VR films just because the world deserves to have something different than male-centric boring POV VR porn," Lust said in an email interview. "The fact that it is a sex film does not mean it has to be simple as fuck. We will prove it." 
In Rowntree's case, she knew right away she didn't want to use the technology to focus on just one character's perspective. Women who watch porn often like to see intimacy and a genuine connection between the performers, which a first-person perspective doesn't provide.
"I didn't know how we could use VR for women," Rowntree recalled. "We try to show connection and chemistry. How are you going to do that with POV?" 
So Rowntree and the crew marked up the film set like a theater, set up the multiple VR cameras for a 360-degree view and let the performers go. Some of the lines were rehearsed, while others were improvised. The sexy bedroom scene, the film's main sex scene, was completed in one take. 
Rowntree found the technology naturally lent itself to resolving one of the main issues that irks female porn consumers: authenticity. 
"It becomes very, very natural," she said. "We don't try to do money shots. Our focus is pleasure. We're looking or the natural flow...The feedback we've gotten has been very positive...[Viewers] really enjoyed the connection between Ava and Lance." 
Female viewers also liked the freedom to control their perspective within the scene. The film received such positive feedback from Sssh.com subscribers that Rowntree already has plans for two more female-centric VR movies. 
When it comes to female audiences, Lust is skeptical about any potential therapeutic uses for VR porn, as the porn company BaDoink has claimed.  "I think this is just entertainment," Lust said. "But VR could make it more immersive. Maybe 'more immersive' means 'more credible.'" 
However, she does believe using the technique of filming a live sex act could help porn appeal to women craving more relatable content. 
"Use the power of the new media," Lust said, as a message of encouragement for feminist adult filmmakers in the making. "Use the language of VR.... surprise the mind of the viewer."