What time will Nick Jonas perform at the 2016 MTV VMAs? Here's everything we know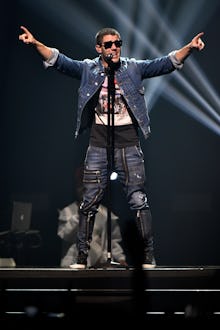 Nick Jonas is set to take the stage at the MTV Video Music Awards on Sunday night, and his performance is sure to be unforgettable.
The singer will perform at the notorious Madison Square Garden in New York City, where the awards show is being held for the very first time, alongside collaborator Ty Dolla $ign. 
The duo will perform Jonas' single, "Bacon," which they worked on together for his newly-released album, Last Year Was Complicated, according to Refinery29.
Eerie promotional materials released ahead of the event feature a voiceover by Jonas, who proclaims, "For me, creativity is the backbone behind everything I do," as trippy visuals morph across the screen.
Jonas will join fellow performers Britney Spears and Rihanna as the live entertainment for the event; Spears is suspected to be opening the show, while Rihanna, who will be receiving the 2016 Video Vanguard Award, is assumed to be closing it.
So, when can we expect a performance from Jonas? Unfortunately, MTV doesn't release its schedule of performances for the VMAs in advance, so there's little information to go on about when he will actually take the stage.
But if his fellow artists are truly slated to bookend the show, then it would be logical to assume that Jonas might perform at some point in the middle of the awards ceremony's 2 hour run time.
There's only one way for sure to find out: tune in to the MTV Video Music Awards on August 28 at 9p.m. eastern.