Who is Stephen Bannon, 'Breitbart' exec-turned-Donald Trump campaign chief?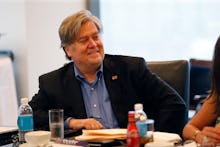 Stephen Bannon, the executive chairman of alt-right publication Breitbart, was appointed chief of Donald Trump's 2016 presidential campaign on Aug. 17. Bannon's been described as the "most dangerous political operative in America" by Bloomberg Businessweek, but why? 
Here's what you need to know:
He identifies more as anti-establishment than Republican.
Make no mistake: Bannon is not a fan of the left, but his political views lean more toward radical anti-establishment policy than traditional conservatism. He's praised Tea Party Sens. Ted Cruz, Rand Paul and Mike Lee while simultaneously attacking the GOP, stating, "What we need to do is bitch-slap the Republican Party," as reported by the Atlantic. 
He served in the armed forces.
Bannon spent seven years in the Navy as a surface warfare officer. He was stationed in the Persian Gulf and Arabian Sea before becoming special assistant to the chief of naval operations during Ronald Reagan's first term.
In addition to running a media empire, he was an investment banker and filmmaker.
Following his stint in the Navy, Bannon spent time working at Goldman Sachs as an investment banker. In 1991, he transitioned to filmmaking with the Sean Penn-directed Indian Runner, which Bannon executive produced. Since then, Bannon has directed a number of documentary films, including The Undefeated, which chronicles Sarah Palin's political career. 
Founded in 2012, the GIA is a conservative nonprofit research organization that investigates politicians from both parties — most notably the Clintons (Clinton Cash: The Untold Story of How and Why Foreign Governments and Businesses Helped Make Bill and Hillary Rich) and Jeb Bush (Bush Bucks: How Public Service and Corporations Helped Make Jeb Rich).