How long does the 2016 MTV VMAs show last?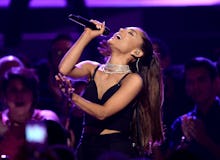 Another year of MTV's Video Music Awards, the show that introduced Banana the python to the world 15 years ago via Britney Spears' shoulders, is back again this weekend. 
But for an event that seeks to document the latest and greatest in music, videos and music videos, it's actually a pretty low time commitment. At least, if you're only counting the award show proper.
This year's VMAs are on at 9 p.m. Eastern on Sunday and last two hours and 30 minutes. If you're starting from the red carpet at 6:15 p.m. and going until the wrap-up of the post-show, it's closer to six hours.
There have already been a pile of announced performances: Rihanna, Future, Ariana Grande (featuring Nicki Minaj), Britney Spears, Nick Jonas and the Chainsmokers. 
But what many are most looking forward to is one Kanye West in his element: a carte blanche performance. West has apparently been given four minutes to do whatever he wants, a source told TMZ — a rumor later backed up by a show source, according to Pitchfork. 
West has performed at the VMAs six times and had some controversial moments — this was, after all, the same show where his speech for winning the Video Vanguard Award included his plans to run for president in 2020. Six years earlier, in 2009, he infamously interrupted Taylor Swift's acceptance speech for best female video, earning him the burning ire of the nation. 
Hopefully, it'll be something more like his flamethrower-assisted debut of "All Day" from the 2015 BRIT Awards. No matter when way 'Ye leans, it's likely his four minutes of free play will be worth our while.