Brazilian police file charges against Ryan Lochte over false robbery report in Rio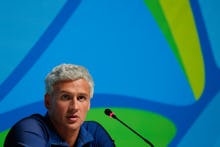 Brazilian police have filed charges against Ryan Lochte, saying the U.S. swimmer filed a false robbery report in Rio, the Associated Press reported Thursday.
According to the AP, Lochte would have to travel to Brazil to enter a plea. The International Olympic Committee's ethics commission will also be informed of the charges, the AP said.
Lochte claimed he and three other male members of the U.S. swim team were robbed and held at gunpoint at a gas station after a night out in Rio. 
However his story fell apart after the AP reported that the swimmers were part of a "rowdy gas station confrontation."
Lochte later apologized for the brouhaha he caused, saying he should have been "more careful and candid" in describing the events. 
Fox News reported that Lochte will likely be called back to Brazil to testify in the case. However Fox said there would be no penalty if Lochte failed to appear.