Donald Trump defends adviser who called for Hillary Clinton to be "shot in a firing squad"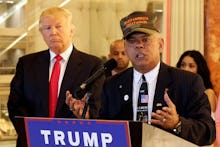 Donald Trump on Thursday defended Al Baldasaro, one of his New Hampshire campaign advisers who said Hillary Clinton "should be shot," saying Baldasaro is a "very fine person."
Trump praised Baldasaro in an interview with New Hampshire's NH1 News, which asked whether Trump condoned Baldasaro's multiple statements that Clinton should be put in front of a firing squad and shot.
"One of your good friends and one of your biggest supporters here in New Hampshire, state Rep. Al Baldasaro, ... he said some controversial things over the last month or two about Hillary Clinton, suggesting she should be put in front of a firing squad for treason. What do you think about his comments? Do you condone them?" NH1 News reporter Paul Steinhauser asked.
"Well, I didn't know that," Trump replied. "But I will tell you he's a very fine person. He's a person that loves the military and he loves the veterans. He's a man that, as far as veterans and veterans affairs goes, I don't think anybody knows more than Al."
Trump claimed he didn't know about Baldasaro's remark. Yet Baldasaro — a New Hampshire state representative who advises Trump on Military issues — has said the comment and garnered media attention for the remark multiple times since July, when he first made the call for Clinton to be shot.
The Secret Service investigated Baldasaro for his statement.
Baldasaro hasn't backed away from the statements since, tweeting on Thursday that his call for Clinton to be shot for treason was "in accordance with the law & Constitution," adding that his remarks were "far from controversial."