Stanford rape case judge will no longer hear criminal cases, per report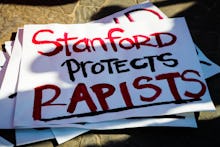 Santa Clara County Superior Court Judge Aaron Persky, who is facing a recall effort over his lenient sentence for a Stanford University swimmer convicted of sexually assaulting an intoxicated woman, will no longer hear criminal matters at his own request, the Associated Press reported Thursday.
Persky's decision to no longer hear criminal cases comes after he recused himself from another sex crime case earlier this week, citing potential doubt from the public of his impartiality, the Mercury News reported. 
The judge has faced heavy backlash over his handling of the sentencing of Brock Turner, the Stanford University swimmer who sexually assaulted a severely intoxicated woman who had passed out by a trash container following a frat party.
Persky gave Turner a six-month prison sentence — lower than the six-year sentence prosecutors asked for, and the 14-year maximum sentence Brock could have received — saying a longer prison term would have a "severe impact" on Turner's future.
The case became a national news story, even drawing the attention of Vice President Joe Biden, who wrote a heartfelt letter to Brock's victim — whose name has never been released.
"I am in awe of your courage for speaking out — for so clearly naming the wrongs that were done to you and so passionately asserting your equal claim to human dignity," Biden wrote to the victim, who herself spoke out about Brock's lenient sentence, saying Brock's actions changed her life for the worse.