Death toll from earthquake in Italy jumps to 267, country declares state of emergency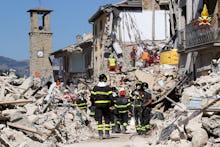 The death toll from the 6.2 magnitude earthquake that struck central Italy on Wednesday has jumped to at least 267, according to the Associated Press. Italy will reportedly hold a state funeral, and has declared Saturday a day of national mourning.
Rescuers continue to search the rubble for survivors — a task made more difficult by the hundreds of aftershocks that have continued to shake the region, ranging in magnitude from 4.1 to 4.7. As rescue workers carve their way through the mountains of debris, they're also using sound detectors in the hopes of finding survivors, CNN reported.
Premier Matteo Renzi said 215 survivors have been rescued in the wake of the earthquake, the AP reported. One of them is an 8-year-old girl rescued after 17 hours of entrapment; she's "undergone surgery and is doing well," CNN reported, citing Italian national news agency ANSA.
Hope for more survivors is fading. According to the AP, it's been more than a day and a half since the last known survivors were pulled from the rubble. But as rescue workers have reportedly noted, people were pulled alive from the debris of a 2009 earthquake in L'Aquila, Italy, after three full days.
"I confirm, once again as we have from the start, that the units that are doing the searches and rescues, including with dogs looking for other people trapped in the rubble, are absolutely fully active," civil protection operations chief Immacolata Postiglione said at a briefing on Friday. 
A state of emergency: Italy's Council of Ministers has approved a state of emergency, according to CNN, putting 50 million euros toward emergency funding.