Britney Spears' shaky "Carpool Karaoke" with James Corden is drawing the ire of Twitter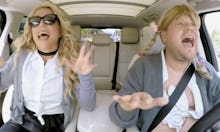 Thursday night, Britney Spears became the latest superstar to catch a ride with late night host James Corden for his viral Carpool Karaoke series, and the two pulled out all the stops. From talking sex fetishes to jamming out to her "Baby One More Time" classic, the two put on quite the show.
However, audiences couldn't help but notice some glaring shortcomings in Spears' car time with Corden. Fans started accusing Spears of lip-synching as far back as Wednesday when The Late Late Show With James Corden teased the Carpool Karaoke in a video earlier in the week. Spears does appear to be singing live during parts of the car ride, but she doesn't sing much. The ever charismatic Corden provides most of the entertainment. 
Viewers did pile onto those few moments where what appears to be obviously lip-synching. Response to the video was pretty merciless on Twitter. 
"Did Britney even sing in that carpool karaoke," one Twitter user asked. 
"This Carpool with James Corden & Britney Spears is annoying [because] he's the only one singing the damn songs!" wrote another.
It's obviously not the first time Spears has experienced accusations of lip-synching, but she and her team has consistently denied them. 
Spears has some opportunities to redeem herself in the coming days. She has a hotly anticipated performance coming Sunday at the MTV Video Music Awards, as well as an official comeback album titled Glory, which fans started to dig into Friday. Hopefully, they'll be enough to get fans to forgive her.