'Vogue Brazil' is under fire for digitally altering models to look disabled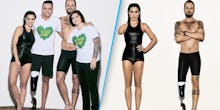 To celebrate the upcoming 2016 Paralympics, which will begin in Rio on September 7th, Vogue Brazil decided to shine a light on two Brazilian Paralympic athletes, Renato Leite and Bruninha Alexandre. 
But instead of doing a photo shoot with the two of them, the magazine staged a shoot with two people who aren't disabled — actors Cleo Pires and Paulo Vilhena — and then digitally augmented them to have the same disabilities that Leite and Alexandre have. Even more head-scratching, they had the Paralympians on set, and even snapped a photo of the foursome — for an Instagram photo.
Here are athletes Alexandre and Leite (in white) posing alongside the models who were digitally augmented (in black). 
And then here is Pires and Vilhena, who have now been digitally altered, posing for Vogue Brazil. 
"We are all Paralympians," Vogue Brazil's caption reads. 
According to Gizmodo, the two athletes have posted about the photo shoot on their Snapchats, and don't seem peeved, but that doesn't mean that everyone else isn't. 
"[It's] hard to understand why Vogue Brazil felt the need to use models who aren't disabled in a Paralympic photo shoot," Richard Lane, the group head of campaigns at the disabilities charity Scope, told the Huffington Post U.K. "It's so rare to see positive and powerful representations of disabled people in the media." 
Given the fact that the Paralympics stands as a chance to remove stigma from disability and amp visibility, the fact that Vogue Brazil couldn't even stage a shoot with actually disabled athletes is telling. According to Huffington Post U.K., Scope just released a survey that revealed that 71% of people with disabilities believe the achievements of Paralympians have a positive impact on their everyday lives.
What's especially biting too is that there are experienced disabled models who could have easily posed in Pires and Vilhena's place, like Jillian Mercado, who has muscular dystrophy, or Lauren Wasser, or Rebekah Marine and BT Urruela, who have done photo shoots together before. 
Just like athletes who are not disabled have posed for American Vogue — like Serena Williams, for instance — it would have been an ideal time to just, you know, do a photo shoot with the Paralympic athletes, but that's not what Vogue Brazil did. 
Already, Vogue is trying to distance itself from the photo spread and criticism, telling Buzzfeed Brazil that it is completely unaffiliated with Condé Nast. 
"This is not a Vogue magazine campaign. It was conceived by the actors Cleo Pires, Paulo Vilhena (game ambassadors) and the Agency Africa. Vogue, along with Editions Globo Condé Nast, only supports the initiative as well as supports any initiative that encourages attendance at games," they said. 
Although the athletes themselves have been more or less enthusiastic about the campaign, it still feels like a giant missed opportunity.