Election guide: Here's a full list of 2016 voter registration deadlines by state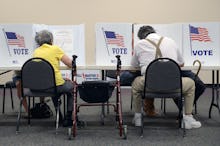 With nearly 70% of citizens registered to vote, there are still millions of eligible voters who are still not able to cast a ballot on election day. Citizens who will be 18 or older at the time of the election can register to vote in most states. Other states offer pre-registration options to people as young as 16. A majority of states offer online voter registration beyond typical in-person or mail-in registration. 
But the key to registering to vote: knowing your deadline. A majority of states do not have same-day voter registration and require voters to register weeks before the election. And states have updated details on how long voters have to register. Google cannot be trusted for voter registration deadlines.
Here's a list of voter registration deadlines for every state:
Alabama — Monday, Oct. 24
Alaska — Sunday, Oct. 9
Arizona — Monday, Oct. 10
Arkansas — Sunday, Oct. 9
California — Monday, Oct. 24
Colorado — state offers election day registration in-person
Connecticut — state offers election day registration in-person
Delaware — Saturday, Oct. 15
District of Columbia — state offers election day registration in-person
Florida — Tuesday, Oct. 11
Georgia — Tuesday, Oct. 11
Hawaii — Monday, Oct. 10
Idaho — state offers election day registration in-person at the polls
Illinois — state offers election day registration in-person at specific facilities 
Indiana — Tuesday, Oct. 11
Iowa — state offers election day registration 
Kansas — Tuesday, Oct. 18
Kentucky — Tuesday, Oct. 11
Louisiana — Sunday, Oct. 9
Maine — state offers election day registration in-person
Maryland — Tuesday, Oct. 18
Massachusetts — Wednesday, Oct. 19
Michigan — Tuesday, Oct. 11
Minnesota — state offers election day registration in-person at the polls
Mississippi — Sunday, Oct. 9
Missouri — Wednesday, Oct. 12
Montana — state offers election day registration in-person
Nebraska — by mail, postmarked by Friday, Oct. 21; in-person, Friday, Oct. 28
Nevada — Tuesday, Oct. 18
New Hampshire — state offers election day registration in-person
New Jersey — Tuesday, Oct. 18 
New Mexico — Tuesday, Oct. 11
New York — Friday, Oct. 14
North Carolina — Friday, Oct. 14
North Dakota — does not require voter registration
Ohio — Tuesday, Oct. 11
Oklahoma — Friday, Oct. 14 
Oregon — Tuesday, Oct. 18 
Pennsylvania — Tuesday, Oct. 11
Rhode Island — Sunday, Oct. 9 
South Carolina — Sunday, Oct. 9
South Dakota — Monday, Oct. 24
Tennessee — Tuesday, Oct. 11 
Texas — Tuesday, Oct. 11
Utah — by mail, Sunday, Oct. 9; online, Tuesday, Nov. 1
Vermont — Wednesday, Nov. 2
Virginia — Monday, Oct. 17
Washington — Monday, Oct. 10
West Virginia — Tuesday, Oct. 18
Wisconsin — state offers election day registration in-person at the polls
Wyoming — state offers election day registration in-person at the polls