Stanford is using a new system to keep track of students' gender pronouns, is now woke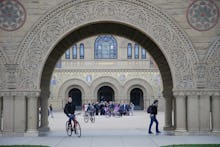 The first day of class usually comes with its inevitable stressors, but Stanford University is trying to ensure that for its nonbinary and gender-nonconforming students, anxiety over having to correct professors about their pronouns isn't one of them.
According to the Washington Post, this fall the university will use a new program called NameCoach that allows students to record their names and pronouns for faculty and staff.
Though the service was developed by Stanford graduate students mostly with name pronunciation in mind — co-founder Praveen Shanbhag told Stanford's website he'd had his name mispronounced his entire life — the university's administration saw an opportunity to support students who've had their pronouns misused and abused.
"We want to encourage a culture of respect on campus, and one of the best ways to convey respect to someone is to get their name right — and to get their pronouns right, too," University Registrar Tom Black told the site. 
The University of Wisconsin-Milwaukee explains the importance of respecting people's gender pronouns on its LGBT resource center website, writing, "It is a privilege to not have to worry about which pronoun someone is going to use for you based on how they perceive your gender. If you have this privilege, yet fail to respect someone else's gender identity, it is not only disrespectful and hurtful, but also oppressive."
Stanford's associate dean Dereca Blackmon said NameCoach helps students who want to be conscious of their peers' pronouns but "still feel unsure how to approach the subject of gender pronouns."
Students applauded the news on Twitter, which entered the public conversation just after the university announced a liquor ban, a move some viewed as a misguided attempt to address campus sexual assault.
"Our gender-nonconforming students have come to expect that our community will make an effort to ask for the correct pronouns before assuming their gender," Blackmon said. "This service makes it easier for students' identities and cultures to be respected."