Young Thug's album cover for 'No, My Name Is Jeffrey' sparks queer appropriation debate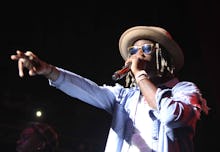 On Thursday evening, only hours prior to the release of his debut album No, My Name Is Jeffrey, rapper Young Thug shared the album's cover art, which showed him in a ruffled, periwinkle dress and a cone-shaped hat. 
The album's back cover shows the rapper smiling from underneath his hat. 
Young Thug, who wore a Hooters tank at the end of his video for "Check" and a pink pleather jacket in "Best Friend," has had to explain his style of dress before. The Atlanta rapper previously told GQ that he liked to wear women's clothing, "Because women's clothes are [slimmer] than men's clothes." The rapper went on to tell the magazine that he wears women's jeans and T-shirts and only really wears men's briefs. 
He has also previously spoken about being able to "be a gangster with a dress" for Calvin Klein's #MyCalvins campaign. 
While his style of dress previously garnered controversy just because he was a man in a dress, the Thursday night Twitter debate was much different. The rapper's frilly outfit caused concern as to whether he might be appropriating queer culture. 
On one side, people celebrated the rapper's genderfuck style. 
However, some people pointed out that the rapper was playing queer dress-up without having to live through the actual consequences of being queer. 
As Twitter user @hausmuva pointed out, artists like Mykki Blanco and Blood Orange either identify as queer or support and embrace queer culture. They also defy sartorial gender rules, but do not enjoy the same mainstream rap success as Young Thug.
At least one Twitter user wanted to move past the controversy and appreciate the music. 
But others didn't let the conversation end that quickly. 
Hip-hop has an inherently queer aesthetic in its history. But in a world with very real consequences for queer people — at least 18 transgender women have been killed in 2016 just for being transgender — Young Thug's album cover straddles a narrow line between celebrating gender defiance and exploiting it without having to live with the consequences of being queer. 
Young Thug has clearly endured some of the vitriol that comes with stepping outside of the gender binary and threatening fragile masculinity. Plenty of users have already left anti-gay comments on Young Thug's Instagram post. One user wrote, "You can't be gay and a gangsta at the same time," while another just wrote "Fag." 
For his part, the rapper has also reinforced stereotypical notions of gender and sexuality. In early 2016, he released the track "Serious," where he addressed the controversy around the way he dresses — by using a gay slur. 
"Green and red motherfuckin' flag / I dress like a prince, not a fag / No, I'm not gay when I hit it though they rate me," the rapper said on the song. 
Messing with gender in his style while still reinforcing it with hate language makes the case of Young Thug a complex one: his style tries to change the game, but his language seems to reinforce the rules.