Why was 'Dr. Drew' canceled? Rep says no ties to comments about Hillary Clinton's health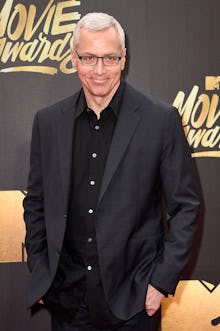 CNN announced on Thursday that it was canceling Dr. Drew, television personality Drew Pinsky's show on HLN, CNN's sister network. The cancellation announcement came just days after Pinsky's controversial speculation on the health of Democratic Presidential nominee Hillary Clinton.
During a radio engagement on Aug. 17, Pinsky weighed in on a conspiracy theory surrounding Clinton's health, the Washington Post reported, saying that he was "gravely concerned not just about her health, but her health care," and speculating that she had "brain damage" — despite that fact that Pinsky is not, and has never been, Clinton's doctor.
Pinsky later apologized for his comments about Clinton's health, the Post reported, saying, "I mistakenly raised an anonymously sourced report about Hillary Clinton's health. By doing so, I violated HLN and CNN's editorial standards and I was wrong to have mentioned the unsubstantiated report."
In an email to Mic, a network representative said that the decision to cancel Dr. Drew — previously called Dr. Drew On Call — was unrelated to Pinsky's comments about Clinton. Rather, the decision had been made weeks earlier, and is part of a shift in direction for the network. 
In an announcement about the show's cancellation, CNN executive vice president Ken Jautz said, "I wanted to let you all know that Dr. Drew and I have mutually agreed to air the final episode of his show on September 22. Dr. Drew and his team have delivered more than five years of creative shows and I want to thank them for their hard work and distinctive programming."
Pinsky is also known for his appearances on numerous other reality television shows, including Teen Mom OG, Teen Mom 2 and Celebrity Rehab with Dr. Drew.