Trump chief Steve Bannon is reportedly registered to vote at an empty house in Florida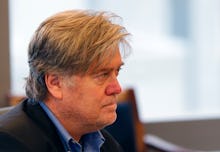 Donald Trump has urged his supporters to remain vigilant against "rigged" elections and voter fraud on a regular basis.
According to a new report, the Republican presidential nominee might want to start the hunt for sketchy behavior right inside his own campaign headquarters.
The Guardian US reported Friday that the Trump campaign's new CEO, Steve Bannon, "is registered to vote in a key swing state at an empty house where he does not live, in an apparent breach of election laws."
Bannon, the paper reported, got on the rolls by listing an address at a vacant home in Miami-Dade County that he originally rented for the use of his ex-wife.
The former chairman of Breitbart — a conservative outlet that has written extensively about the dangers of a fixed election — apparently never lived at the Coconut Grove property, which is now slated for demolition.
Bannon declined Guardian US requests for comment about his situation. A Trump campaign spokesman only said the new campaign leader had since moved to another Florida address.
Florida law requires voters to reside at the address they list on their registration; the Guardian US reported that "wilfully submitting false information on a Florida voter registration — or helping someone to do so — is a third-degree felony punishable by up to five years in prison."
Meanwhile, Trump has been tweeting about how polls show him doing well against Democratic rival Hillary Clinton in battleground states — including Florida.
Clinton on Thursday used a scathing speech about Trump and the "alt-right" movement to call out Breitbart as a purveyor of "ideas on the extremist fringe of the conservative right. Racist ideas."
Questions about Bannon's voter registration arose as he faced a double whammy of unflattering reports about having once been charged with domestic violence against his ex-wife Mary Louise Piccard, who was named by the New York Post.
Politico on Thursday night reported that Bannon, now on leave from Breitbart as he tries to help right the listing Trump ship, "was charged with misdemeanor domestic violence, battery and dissuading a witness following an incident in early January 1996."
According to the story, which cited police and court records, Piccard "claimed he pulled at her neck and wrist during an altercation over their finances."
He pleaded not guilty to the charges. The case was dropped when Piccard failed to appear in court.
Bannon and Piccard divorced not long after the incident.
In a declaration filed as part of the breakup, according to the New York Post, Piccard said as they fought, "I took the phone to call the police and he grabbed the phone away from me throwing it across the room, and breaking it as he [was] screaming that I was a 'crazy f*cking c*nt!"
Piccard declined to comment to the Post, while a Bannon rep told the paper, "Steve has a great relationship with his ex-wife and his twins."