Trump campaign chief Stephen Bannon reportedly has a history of domestic violence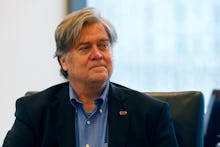 Stephen Bannon, the anti-establishment media mogul recently tapped to lead Donald Trump's campaign as CEO, allegedly attacked and threatened his ex-wife during their marriage in the mid-1990s, according to police records.
In documents obtained by the New York Post and Politico, Bannon's ex-wife, Mary Louise Piccard, told police that the former Breitbart chairman threatened to take their twin daughters, and physically and verbally abused her, calling her a "crazy fucking cunt" and grabbing her "by the throat and arm" during an altercation on New Year's Day, 1996. Police responded to the incident, during which Bannon reportedly attacked Piccard in the driveway of their Santa Monica, California, home, after he threw a telephone against a wall and left it shattered while she was calling 911.
Bannon was later charged with domestic violence, battery and attempting to dissuade a victim from reporting a crime, the New York Times reports, allegedly telling Piccard to skip town to avoid testifying against him.
"He also told me that if I went to court he and his attorney would make sure that I would be the one who was guilty," Piccard said in her divorce declaration. "I was told that I could go anywhere in the world."
According to Piccard, it wasn't just Bannon who instructed her to leave town in order to avoid testifying against him. She claimed her ex-husband's attorney, Steven Mandell, also "threatened" her, telling her she "would have no money and no way to support" her children if Bannon went to jail. Piccard agreed to flee with her daughters for two weeks before Mandell told her she could return, she said, while Bannon pleaded not guilty to misdemeanor charges of domestic violence.
The charges against Bannon were later dropped because Piccard, the main witness in the case, failed to appear in court.
In an interview with the Times, Mandell denied pressuring Piccard to leave town, but said "it's possible" Bannon encouraged her not to testify. The Trump campaign CEO has not responded to new reports of the allegations, but his spokeswoman, Alexandra Preate, told the Post that Bannon has "a great relationship" with his ex-wife and their daughters.
Piccard's accounts of her ex-husband include other instances of what she depicts as coercive behavior, including when the couple decided to marry. The Post reports that in 1995, when he and Piccard were still dating, Bannon refused to marry the expectant mother of his children until tests confirmed the babies were "normal." The pair wed three days before their twins were born.
"Bannon made it clear that he would not marry me just because I was pregnant," Piccard claimed in a document. "I was scheduled for an amniocentesis and was told by the respondent that if the babies were normal we would get married ... After the test showed that the babies were normal the respondent sent over a prenuptial agreement for me to review." 
In an interview with Good Morning America on Friday, newly hired campaign manager Kellyanne Conway said it's unclear if Trump knew about Bannon's alleged history of domestic violence before hiring him as campaign CEO. "I don't know what he was aware of with respect to a 20-year-old claim where the charges were dropped. So that's all I know about is what I read," Conway said. 
The revelations about Bannon come as Trump is struggling to compete with Hillary Clinton among female voters. Trump's own history of behavior toward women has been an issue throughout the campaign, and several of his current and former advisers have been accused of mistreating women in the past.
Corey Lewandowski, Trump's former campaign manager, was arrested for battery in March after video showed him grabbing the arm of a reporter after a campaign event. Those charges were later dropped. Lewandowski was pushed out of the campaign in June.
Trump has also reportedly been seeking advice from former Fox News chairman Roger Ailes, who was forced to resign from the network after multiple women accusations of sexual harassment. 
For his part, Bannon referred to the sexual harassment lawsuit against Ailes as a "total dud," and has claimed the existence of a "militant-feminist legal wrecking crew."