Will Khal Drogo be returning to 'Game of Thrones,' or is Jason Momoa just making beer?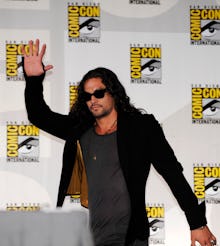 Characters on Game of Thrones die constantly, but now that everyone's favorite Northern bastard Jon Snow came back to life in the show's sixth season, we wonder: Who else could return to Westeros? 
Jason Momoa — who played Daenerys' deceased Dothraki husband Khal Drogo — was recently spotted in Ireland with showrunners David Benioff and D.B. Weiss during the HBO series' pre-production phase. It fueled some speculation among the fanbase that we might be seeing more of the Dothraki warlord in the coming seasons.
Of course, if Drogo did make a return to the show, it'd likely be in the same manner of his season two cameo. Back then, he appeared in Dany's vision in the House of the Undying, holding their child in their old Dothraki abode. Perhaps, Drogo could make a similarly trippy return to Dany's subconscious when she finally makes it to Westeros in season seven. 
Either that, or the actor is just making some beer. 
Momoa's visit to Ireland could've been mere happenstance, as he reportedly has been on a family pilgrimage to Guinness Brewery in Dublin. While there, the brewery reportedly presented him with his own custom beer: the Mano Brew. 
It's the company's first sour beer, per Momoa, but unfortunately, he's likely the only one who will get to enjoy it. Guinness reps informed PopSugar the brew was "a special gift for Momoa alone as a 'thank you' for being so passionate."
The pure bliss on Momoa's face though, like a child on Christmas morning, should make up for this disappointment in some small way.