Taylor Swift and Blake Lively formally induct koala into Instagram squad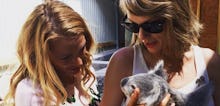 Taylor Swift rarely emerges from her cocoon of Instagram silence these days. In the past month or so, she has taken to the app on only four occasions — all of which were to pass on birthday greetings to various squad members.
While Swift celebrated the birthdays of Selena Gomez, Karlie Kloss and Cara Delevingne with candid selfies and/or group pics with familiar faces, her tribute Thursday to birthday girl Blake Lively was different. 
It marked the Instagram debut of her squad's first token marsupial. 
"You're a wonderful friend to humans and koalas alike," Swift captioned the birthday greeting. "I absolutely love you."
How long have they been "friends" with this koala? What is its name? Why were we not aware of its existence until just now? Hmm.
The authenticity of their relationship with the koala aside, this is just the latest chapter in the light beach read that is the Swift-Lively Instagram friendship. 
Earlier this summer, the two starred in a majestic three-couple porch photograph with their respective partners. Lively's husband, Ryan Reynolds, sported one of the most existential facial expressions the social media app has ever seen. Swift and her beau, Tom Hiddleston, were staring at each other instead of the camera. The third couple, a pair of nonfamous normals, smiled and posed in a refreshingly earnest manner. 
Where was the koala that day? I wonder.