Pine Bros. throat drops decides Ryan Lochte has learned his lesson, sponsors him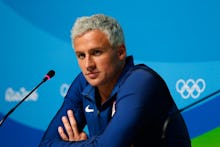 Walking Derek Zoolander impression Ryan Lochte won't be brought down by revelations that he allegedly drunkenly vandalized a gas station, filed a false report to police about a robbery, then fled the company while his teammates had to stay behind as police investigated. 
Within days of losing all of his major sponsors — which included high-end labels such as Ralph Lauren and Speedo — at least one warmhearted brand has decided Lochte has learned his lesson.
The sponsor is no household name, and there's no word yet just how valuable the deal could be, but Adweek reported Lochte reached an agreement with Pine Bros. throat drops to appear in commercial and print ads. 
Lochte confirmed the endorsement on Twitter. 
"Just as Pine Bros. is forgiving to your throat, the company asks [the] public for a little forgiveness for an American swimming legend," the company said in a statement, CNN Money reported.
Pine Bros. isn't the only entity that feels Lochte, the Olympic swimmer and reality star whose false police report may still result in criminal charges, isn't ready to leave the spotlight. USA Today reported Lochte had signed a deal with ABC to appear on season 23 of Dancing with the Stars. 
Numerous pundits have pointed out that Lochte's race might have helped him get a free pass for his alleged transgressions, comparing his case with that of 20-year-old U.S. Olympic gymnast Gabby Douglas, who drew bitter criticism for not putting her hand over her heart during the national anthem. 
A focal point of the criticism was the downplaying of the incident by Olympic Committee spokesman Mario Andrada, who suggested people should "give these kids a break" — despite the fact that Lochte is 32.
It seems that despite his legal troubles, Lochte still has a long career ahead of him.