G-Eazy net worth, real name, tour info and more on the "Make Me" rapper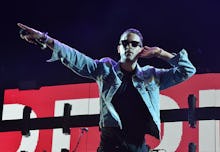 Gerald Earl Gillum, better known by his stage name G-Eazy, is many things: a rapper, producer, songwriter and collaborator to the stars. The rising hip-hop star has had several recent successful hits, from his own top 10 hit "Me, Myself & I" to his feature on Britney Spears' "Make Me." He'll share the stage with her Sunday night at the MTV Video Music Awards. 
With such continued success, G-Eazy, 27, continues to rake in the cash. As of 2016, multiple outlets place G-Eazy's total net worth somewhere around $3 million. Those figures come from a combination of serving as an opening act on Drake, Lil' Wayne and Snoop Dogg's recent tours, his Endless Summer tour with fellow rapper Logic and several successful albums, including his latest, When It's Dark Out. 
G-Eazy became a mainstay in the hip-hop industry after forming the group Bay Boyz and finding an audience through MySpace while attending Loyola University. 
After graduating with a degree in music industry studies, G-Eazy went began work on a solo career, performing at the Summer Warped tour and earning High Times' best new artist title in 2013. 
G-Eazy will take the VMAs stage Sunday with Spears to perform "Make Me." He also has several upcoming international tour stops listed on his site, including a  concert Friday at Bramham Park in the United Kingdom, appearances at the Minnesota and Alaska state fairs and a top billing set at Las Vegas' Life is Beautiful festival. 
Tickets to his five upcoming shows are available here.