Clinton and Trump fans find shaky common ground in unlikely place: gun control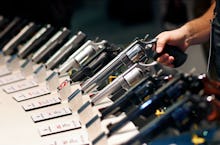 Despite an exceptionally divisive presidential election cycle, voters are finding some common ground in a place many would least expect: gun control.
Democrat and Republican voters alike both widely support requiring background checks for firearms sales conducted privately and at gun shows, a new Pew Research Center study finds — including "90% of registered voters who back Hillary Clinton and 75% of voters who back Donald Trump."
The agreement between the two sides may seem counterintuitive, particularly since Trump surrogates and the NRA, which has endorsed him, have painted Clinton as a "gun grabber" bent on destroying Americans' Second Amendment rights.
Trump caused a real uproar at the beginning of August by insinuating that Clinton would put an anti-gun justice on the Supreme Court unless "the Second Amendment people" took matters into their own hands in some unspecified way.
But in fact, Clinton and Trump backers also both largely favor preventing people on federal terror watch lists from buying guns and, by a nearly equal percentage, concur that guns should be kept away from the mentally ill, Pew reported in the study released Friday.
But don't start singing "Kumbaya" just yet: The research shows "the gap in how candidates' supporters view overall priorities for the nation's gun policy is much wider today than it has been in any presidential campaign dating to 2000," suggesting that Americans are deeply split over the very nature of the ongoing debate.
Overall, about 52% of those surveyed told Pew it's "generally more important to protect the right of Americans to own guns," while 46% feel it's more critical to "control gun ownership."
But when it comes to Clinton and Trump supporters, that fracture splits into a Grand Canyon-esque divide: An overwhelming 79% of Clinton supporters prioritize controlling ownership. Nearly all Trump boosters — 90% — say gun rights should come first.
By comparison, in 2000, the gap between supporters of Democrat Al Gore and Republican George Bush on whether gun control should take precedence was only 20 points. It had risen to 41 points by the time Barack Obama faced off with Mitt Romney in 2012.
Asked whether gun ownership is more likely to protect people from becoming victims of a crime or to put people's safety at risk, a majority, 58%, told Pew they agreed with the self-defense argument.
Whites agreed by a margin of about two-to-one, while blacks were nearly split, with 49% saying gun ownership is "more of a safety risk" and 46% saying it "protects people from crime."
Trump voters in the Pew study were far likelier than Clinton voters to see guns as protection against threat — rather than seeing guns as the threat itself.
On another hot-button issue, assault weapons, Pew found support for a ban "has slipped from 57% to 52% since July 2015, with the decline driven by Republicans and Republican-leaning independents."
Republican opposition to an assault weapons ban is now at 62% — its highest point since Pew began measuring it in 2013. Among Democrats, 67% favor a ban.
Pew surveyed 2,010 adults, including 1,567 registered voters, from Aug. 9 to 16. The study's margin of error varied by party affiliation and gun ownership status, among other subgroups.