In honor of National Dog Day, a brief history of noteable Kardashian pets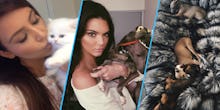 Imagine if every time you'd whined to your parents, "Please, can we get a puppy?" they'd given in — and that you had about a dozen other siblings doing the same. Such is the drama of the Kardashian-Jenner clan, who, over 12 seasons of Keeping up with the Kardashians have had enough kittens, chickens, fish and dogs to open an animal sanctuary. 
These pets have lived far better lives than we can ever hope to — and then they were gone. What was the fate of Kim's teacup Persian Mercy? How many Italian greyhounds will Kendall and Kylie purchase before E! gives them their own reality show?
On this National Dog Day, Mic investigates.
Kendall and Kylie's maltese, Bella
While the meat of the season 1 episode "You Are So Pregnant, Dude!" centers around Kourtney's pregnancy scare, a stirring subplot finds Kendall and Kylie trying to convince their parents to buy them a puppy. In a classic good-cop, bad-cop scenario, Caitlyn gives Kendall a stern "no," while Kris relents. 
Thus a tiny maltese Bella was welcomed into the family — and then disappeared.
According to a Kardashian fan Twitter account, the dog may have gone to Pastor Brad — who Radar describes as Kris' "hand-picked" pastor. He and his wife may have taken custody of the pup.
Kris' chickens
Technically, these chickens were never truly considered pets by the Kardashian clan, but they must be acknowledged in any respectable roundup of furry (and feathered) members of the Krew. In season 1 episode "Chicken Run," Kris decides her family should eat healthier and hauls them off to a farm where she famously mistakes a pigeon for a "cute" chicken. The family leaves with a full coop of chickens and thus embarks on their #CleanEating journey, which consists solely of eating farm-fresh eggs... as far as we can tell. 
Eventually, the sisters tire of their mother's ploy and teach her a lesson by putting a chicken in her jacuzzi tub. It later escapes, poops on the living room floor and, at some point, lays a few eggs that Kris feeds to her ungrateful children, who say they taste "dirty." 
The chickens were returned to the farm and never seen again.
The fish Kim and Khloe get for Mason that die.
"Tales from the Kardashian Krypt" deals with all things mortality-related, with the main plot stemming from Kris' desire to make funeral arrangements for herself as a gift to her children. 
But, while Kris was trying out different kaskets, Kim, Kourtney and Khloe cope with the true consequences of death as they scramble to replace Mason's dying fish. By now, Kourtney's probably taught her son that all living things must one day die, but at the time she chose to flush his fish down the toilet and purchase a facsimile. 
Kim's cat, Mercy
In 2012, Kanye West gifted Kim a white teacup Persian kitten named Mercy, who she possibly loved and cherished before realizing she was allergic to cats. According to Huffington Post, Kim later gave the cat to Khloe's assistant, Sydney Hitchcock. 
But not soon after, Hitchcock, who had just experienced the loss of her cat of 12 years, lost Mercy to a "cancer-like virus often associated with breeding."
RIP Mercy.
Kendall's dog that pooped everywhere
Amid her burgeoning modeling career, Kendall decides to get a dog who stays at her mother's house while she jet-sets all around the world. Things go south when Kris complains of "poops as big as this ottoman" lovingly scattered all around the house — and across season 9 episode Doggy Blu's.
After getting a scolding from her mother, Kendall begrudgingly cleans up the dog's droppings from the kitchen floor — and deposits them in the trash. Because where else could poop go?
Kylie's gaggle of Italian greyhounds
Kylie is already mother to three Italian greyhounds named Norman, Bambi and Sophia. This past March, she added a long-haired dachshund named Odie to the bunch, whose favorite chew toy is Kylie's $400 Fendi keychain. 
Though one would think four pets would be enough for any 19-year-old homeowner, Kylie tweeted on Friday that she's already in the market for another.
Tune in next National Dog Day, as this list will no doubt have tripled.