Marijuana legalization 2016: Just how popular is legal weed this election?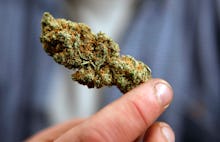 On Nov. 8, nine states will vote to either legalize marijuana or allow its use for medical purposes. Since 1996, 23 states and Washington, D.C., have passed laws allowing medical marijuana. Oregon, Alaska, Washington and Colorado have legalized marijuana for adults over 21.  
Latest public opinion on marijuana legalization
While marijuana is still illegal under federal law, there's a growing movement in the United States to legalize it, either outright or for medical use.
Democratic nominee Hillary Clinton advocates the decriminalization of marijuana, according to her campaign website. Republican nominee Donald Trump's campaign website says he will create borders to stop drugs from entering the country. He doesn't specifically mention his policy on marijuana. However, both candidates have expressed support for legalizing medical marijuana, according to Fortune.
"This is the most marijuana-friendly field of presidential candidates in history," said Robert Capecchi, Marijuana Policy Project's director of federal policies, in a press release. "All of the candidates support legal access to medical marijuana, and most of them support making it legal for adults and regulating it like alcohol. Even the least friendly candidate agrees that states should be able to able to determine their own marijuana laws without federal interference."
A Gallup poll released on Thursday shows that 60% of Americans support legal marijuana. And that number is even higher among young people. A whopping 77% of those polled between the ages of 18 to 34 support legalizing pot.
States voting on legal marijuana this November
These are the nine states that will be voting on marijuana use on Nov. 8.
Arizona
Voters in Arizona will be able to weigh in on Proposition 205 this year, which would legalize marijuana for residents 21 and over. Residents would be allowed to grow up to six pot plants in their homes. The measure includes a 15% tax on marijuana sales and would create a Department of Marijuana Licenses and Control to oversee licensed businesses that sell marijuana.
Arkansas
Arkansas has two measures on the ballot to legalize medical marijuana, Issue 6 and Issue 7. Users would be required to get a prescription from their doctor and only certain medical conditions would qualify for medical marijuana use. Issue 7 would allow patients who live more than 20 miles from a dispensary to grow their own plants and would provide financial help for low-income patients. The law would be regulated by the Arkansas Department of Health.
California
In one of the most-watched ballot measures in the nation, Californians will vote on Proposition 64 to legalize marijuana use for people 21 and over. In 1996, California became the first state to legalize medical marijuana. The state voted to legalize marijuana in 1972 and again in 2010, but the measure failed to pass. The state would impose a 15% sales tax and additional taxes for growers. The law would also regulate packaging and advertising of marijuana.
Florida
Amendment 2 would legalize medical use of marijuana in Florida. The state Department of Health would regulate the use of medical marijuana production and distribution centers. Patients with certain medical conditions would obtain an ID card. In 2014, Florida voters passed the Compassionate Medical Cannabis Act, allowing patients to use non-smoked low THC marijuana.  
Maine
Maine voters will see Question 1 on the ballot this year, allowing recreational use of marijuana for residents 21 and over. The measure allows for dispensaries, but also permits for "marijuana social clubs." The law would be regulated by the state Department of Agriculture, Conservation and Forestry. It allows residents to grow up to six pot plants and possess or transport 2 1/2 ounces. The state would place a 10% sales tax on marijuana and marijuana retail products.
Massachusetts
In 2008, Massachusetts voted to decriminalize marijuana. In 2012, voters approved the use of medical marijuana. This year, Question 4 on the ballot asks voters legalize marijuana for recreational use. Sale of marijuana would be subject to the state sales tax plus a 3.75 excise tax. The state would create a Cannabis Control Commission to regulate the use and sale of marijuana. All fees and fines associated with marijuana use would be placed into a fund to help pay for enforcing the law.
Montana
In 2004, voters in Montana approved the use of medical marijuana. The law limited medical providers from treating more than three patients at once. This year, the Montana Medical Marijuana Initiative, or I-182, is on the ballot. It would lift that restriction, include post-traumatic stress disorder as a qualifying condition and set fees to help pay for regulation and oversight.
Nevada
The Nevada Marijuana Legalization Initiative is Question 2 on the ballot and will legalize the use and possession of one ounce or less for adults 21 and over. The law would allow the state Department of Taxation to determine rules for licensing and the number of licenses that will be made available. The state would impose a 15% tax and would enforce prohibition of marijuana use and possession on school grounds. 
North Dakota
Called the North Dakota Compassionate Care Act, Initiated Statutory Measure 5 would legalize the use of marijuana for certain medical conditions. Prescriptions would be limited to three ounces every two weeks. Nonprofit "compassion centers" would be created to grow and sell marijuana. The state health department would oversee the law but would also be allowed to conduct reviews of patients and caregivers with 24 hours notice.
Mic has ongoing presidential coverage. Please follow our main election hub as well as coverage of Donald Trump and Hillary Clinton.