A Beyoncé and Jay Z album is said to be dropping at the 2016 VMAs — are the rumors true?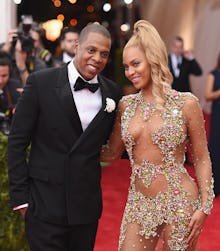 These days, a joint Beyoncé and Jay Z album isn't so much a matter of if, but a matter of when and where. Reports stating the Grammy-winning power couple have been working in the studio together on a collaborative project since 2014 just keep rolling out, with new rumors pointing to the MTV Video Music Awards as a potential surprise release date. 
A Beyoncé fandom account on Twitter, @TheBeyHiveTeam — which has a surprisingly good track record when it comes to Bey rumors — has been spilling all the tea recently, leaking supposed lyrics to multiple tracks from the album:
The account also allegedly leaked what could be track titles or themes and images from the upcoming project: "Marriage Counseling. Tennis Courts. Mansion. Therapy. Battle. Screaming. Accusations. Regret. Trust Issues. Celebrity. Visual Album. Film." 
They match with past rumors that the album would address the overarching themes and narratives presented on Lemonade, Beyoncé's sixth straight No. 1 album, which focuses (in part) on a strained relationship and reclaiming one's identity and independence. 
Detail, a producer who created the pair's iconic single "Drunk in Love," revealed in a 2015 interview that he was hunkering down in the studio with Bey and her husband.
"When you think of Jay and Bey together, you think album," he told Billboard telling Billboard. "You should already know." The producer also revealed the album could drop in 2016.
Beyoncé is usually surgically precise with her releases, and they're usually time-stopping events in and of themselves. This moment may or may not come Sunday night during the VMAs, where the icon's Lemonade is up for 11 awards. Additional reports claim Bey is planning to magnify her almost assured wins with a surprise performance. 
Previously, in 2014, the international hitmaker shut the entire show down with an incredible 20-minute performance of some of her biggest hits to date. Fans will just have to wait and see to find out exactly what Bey has in store this year.