Xbox One S vs. Xbox One: Are the upgrades worth the price?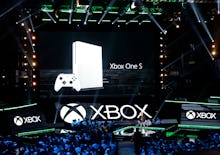 The Xbox One S arrived earlier this month, flaunting a slimmer and sleeker design in addition to an array of improved hardware. It's a great investment for those looking to dive into the latest generation of consoles, but for those who already purchased the standard Xbox One, is it worth shelling out another $300 to upgrade?
Probably not. That assessment comes down to three reasons:
Inconsistent performance boost
The Xbox One S boasts ample visual improvements thanks to 4K resolution and high dynamic range, which sharpens contrast and enhances color. That being said, the performance bonus of the console is inconsistent, to say the least. While recent benchmark tests have partially debunked Microsoft's claims that an upgraded CPU and GPU has "literally no impact" on the performance of games, the results still vary. That's exactly why Microsoft was hesitant to market the console as a guaranteed power boost. 
"Some games (ones that utilize dynamic resolution and/or unlocked frame-rates) may see a very minor performance improvement," Microsoft's Albert Penello, senior director of product management and planning, told Eurogamer. "Our testing internally has shown this to be pretty minor, and is only measurable on certain games, so we didn't want to make [the performance boost] a 'selling point' for the new console."
And while Eurogamer proves that Microsoft may have understated the Xbox One S' performance increase, their testers also admit that "many more may not notice [the performance boost] at all." If you already have the original Xbox One, the upgrade is probably not necessary unless you've got money to splurge.
No exclusive games
The most obvious factor, a lack of Xbox One S-exclusive games, makes it hard to justify purchasing the console if you already have the standard Xbox One. That's not exactly a bad thing, however, as Microsoft has plans for a new generation — which brings us to our final point.  
Project Scorpio is coming
Dubbed the "most powerful console ever" by Microsoft, Project Scorpio will be the true upgrade gamers might've hoped for in the Xbox One S. Scorpio's specs are scary good: four-and-a-half times more powerful than the original Xbox One. And though there's no guarantees, Microsoft execs refuse to rule out the possibility of Scorpio-exclusive games, with GM of Game Publishing Shannon Loftis telling YouTube, "It's up to the game development community."
Even if developers decline designing Scorpio-specific games, the console's substantially improved hardware is enough to vindicate an upgrade — unlike the Xbox One S. With Project Scorpio slated to arrive around the holiday season of 2017, current Xbox One owners are better off waiting one more year for a worthier improvement.