Trump's campaign CEO accused of saying "he doesn't like Jews" in divorce filings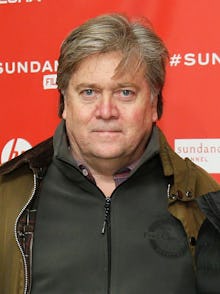 Donald Trump's campaign CEO Steve Bannon allegedly did not want his two daughters "to go to school with Jews," his ex-wife said during divorce proceedings, which were uncovered Friday by BuzzFeed.
"He said that he doesn't like Jews and that he doesn't like the way they raise their kids to be 'whiney brats' and that he didn't want the girls to go to school with Jews," Bannon's ex-wife, Mary Louise Piccard, said in court filings, according to BuzzFeed.
The accusations are the latest in a string of bad press for Bannon dredged up from the divorce proceedings.
On Thursday, the New York Post and Politico reported Bannon had grabbed his ex-wife "by the throat and arm" and called her a "crazy fucking cunt" during an alleged altercation in 1996.
Bannon was charged with domestic violence, battery and attempting to dissuade a victim for the incident, but the charges were dropped after Piccard did not show up at trial.
Piccard said Bannon threatened her if she showed up to court. "He also told me that if I went to court he and his attorney would make sure that I would be the one who was guilty," Piccard said in the divorce files. "I was told that I could go anywhere in the world."
Voter registration files uncovered by the Guardian also found that Bannon was registered to vote in Florida at a vacant home in which he did not live. In Florida, registering to vote using a home in which you do not live is illegal.
It's also a hypocritical move for Bannon, who ran the website Breitbart, which crusades against voter fraud.
All of the news comes a day after Hillary Clinton delivered a scorching speech saying Trump's campaign has been a "disturbing" series of racist and anti-Semitic "dog whistles."