Odell Beckham Jr.'s hot tub sing-along video hit people in their fragile masculinity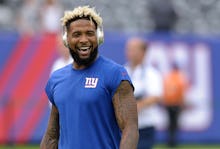 Who knew such a small hot tub could create such big waves?
On Friday, Instagram account The Shade Room posted a video featuring New York Giants wide receiver Odell Beckham Jr. singing Marvin Gaye's "Sexual Healing" in a hot tub. Sounds fun, right? 
In a lukewarm twist, the video ends with colleague Dominique Rodgers-Cromartie emerging from underneath the tub's suds. 
The video spurred a new round of gay rumors around the football star, who previously faced speculation around his sexuality because he danced with another male friend. 
On the Instagram comments under the video, one user wrote, "That made my stomach turn," while another wrote, "Odell probably should've told [dude] to stay out the video cause this look extra gay." 
But a bevy of Twitter users responded to those concerned with Beckham's sexuality with one question: Why do you care? 
As many people pointed out, the culprit behind the gay rumors is probably our old friend fragile masculinity. 
In a December 2015 piece in Slate, Rafi D'Angelo wrote that the persistent gay rumors surrounding Beckham show how black male celebrities are often given less room to act freely than white celebrities.
"White men are allowed a greater range of expression before they are automatically considered gay," D'Angelo wrote. "The boys in Marvel movies are always flirting and nobody cares. Matt McGorry can say his male co-star has a pretty mouth and nobody cares. Channing Tatum 'vogued' and nobody cares." 
Ironically, the original video doesn't portray gayness so much as it parodies it. On one level, Beckham winks at gay rumors by sharing a hot tub with a colleague — something innocent enough when you're a professional athlete. But, on another level, Beckham "reveals" the extra person in the hot tub in the final seconds of the video as a joke — ha! It's a guy! That Beckham would be considered gay when he's actually making gayness the joke reveals just how fragile our masculinity is. 
For all the questions around his sexuality, Beckham doesn't seem to care.