Dwyane Wade's cousin murdered in Chicago one day after he spoke on anti-gun violence panel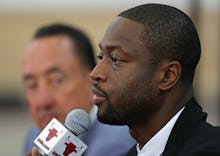 On Friday afternoon, 32-year old Nykea Aldridge was gunned down as she pushed a baby in a stroller down a Chicago street.
The bullets were not intended for Aldridge; the two men firing shots had been aiming at a third man, standing nearby in the Parkway Gardens neighborhood but ended up shooting the mother of four in the head and arm, according to ABC News. 
That Aldridge was the first cousin of NBA superstar Dwyane Wade matters little; in her death, she has become the latest in a seemingly endless string of gun violence victims during the summer that has seen Chicago's deadliest 24-hour period in 13 years.
"My cousin was killed today in Chicago. Another act of senseless gun violence," Wade tweeted. "Four kids lost their mom for NO REASON. Unreal."
On Thursday, Wade and his mother, Pastor Jolinda Wade, had participated in a panel on gun violence hosted by The Undefeated, a platform run by ESPN that highlights the intersection of race, sports and culture. 
But just one day later, Jolinda Wade was telling the reporters gathered outside the emergency room that her own niece had just become the victim of exactly the type of senseless gun violence that she had spoken about the previous day.
"Just sat up on a panel yesterday, The Undefeated, talking about the violence that's going on within our city of Chicago, never knowing that the next day we would be the ones that would be actually living and experiencing it," she said.
"We're still going to try and help these people to transform their minds and give them a different direction, so this thing won't keep happening. We're still going to help empower people like the one who senselessly shot my niece in the head."
The Chicago Bulls, the organization Wade was just signed to in July, offered their condolences in a statement released on Twitter Friday evening.
Though Wade did not specifically mention gun violence during the panel hosted by The Undefeated, he did mention the deep divisions that persist in Chicago's communities.
"It's deep-rooted," he said, speaking of the violence. "This is something that didn't start today, this is something that isn't going to end tomorrow, this is something ... hopefully, eventually we can stop it."
Correction: August 27, 2016