Donald Trump just used still-grieving Dwyane Wade's name to pander to black voters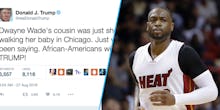 On Friday, NBA superstar Dwyane Wade's 32-year old cousin, Nykea Aldridge, was gunned down in Chicago as she pushed her baby in a stroller.
By Saturday morning, Republican presidential nominee Donald Trump had figured out a way to package the Wade family's grief into a tweet that would help him continue pandering for the black community's vote.
Just hours after Pastor Jolinda Wade, Dwyane Wade's mother and Aldridge's aunt, told reporters that her niece, a mother of four, had been killed by stray bullets not meant for her, Trump had already turned the tragedy into a vote-for-Trump moment on Twitter.
The tweet doubles down on controversial comments Trump made on August 19 in Michigan, when he asked the same black voters that he hopes will choose his name on the ballot in November, "What do you have to lose?"
"Look at how much African-American communities have suffered under Democratic control," he said to the assembled crowd. "To those hurting, I say: What do you have to lose by trying something new like Trump?" 
"You're living in poverty, your schools are no good. You have no jobs, 58 percent of your youth is unemployed, what the hell do you have to lose?" he added.
Much like those comments, the tweet invoking the Wade family's grief received a negative and immediate backlash on Twitter.
During a recent segment on CNN, journalist Charles Blow delivered a graceful condemnation of why Trump's latest outreach efforts, though seemingly aimed at black voters, are actually meant to entice white ones.
"He's not talking to us," Blow said, referring to the black community. "He's pretending to talk to us as he talks to you. And this is an insult to all people of color, black, Hispanic and otherwise, because he is using us as pawns to get to you."