Charlize Theron's son dressed as Elsa from 'Frozen' and people made transphobic comments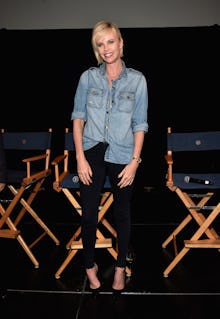 Charlize Theron has been a monster and an evil queen, but according to Twitter, she's also a bad mother for letting her son dress as his favorite princess. 
Images began circulating the internet around Thursday afternoon, according to Refinery29. Since the images first surfaced, several Twitter users have stepped in and decided to share their thoughts on how Theron should raise her 4-year-old son, Jackson, who she adopted from her home country of South Africa. 
Several of the images bear a watermark from MediaTakeOut.com, an urban gossip website. In February 2016, the site published a blog post claiming that Theron was raising her 4-year-old son as "a transgender." This week, the site published a blog post reporting that Theron dressed him in a blonde wig and a dress. 
Theron has been vocal about her son's love for princesses in the past. In May 2014, Theron appeared on The Tonight Show and discussed her son's love for Elsa. Theron's The Huntsman: Winter's War co-star Emily Blunt told Jimmy Kimmel in April that Theron's son became disappointed when he met her on set and learned that Blunt was not actually Elsa. 
While Theron did face criticism, it seems even more commenters saw the online vitriol the actress received and responded by tweeting positive notes of approval for letting her son express herself however he wants. 
While childhood in America is dominated by gender norms, more and more toys and cartoons are attempting to enter an era of gender neutrality. Retailer Target abolished gender neutral signage in their stores and boys now star in Barbie commercials. 
Given how toxic fragile masculinity can be, it's probably best to not try to pass too much of it on to children, anyway.