49ers quarterback Colin Kaepernick sat during national anthem to protest American racism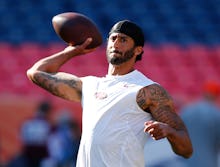 On Friday night, San Francisco 49ers quarterback Colin Kaepernick refused to stand during the national anthem in protest of oppression and police brutality, according to NFL.com. NFL.com also reported that Kaepernick has done this at at least one other preseason game.  
"I am not going to stand up to show pride in a flag for a country that oppresses black people and people of color," Kaepernick said to NFL.com in a post-game interview. "To me, this is bigger than football and it would be selfish on my part to look the other way. There are bodies in the street and people getting paid leave and getting away with murder."
Kaepernick is biracial and was adopted by white parents when he was very young. 
The 49ers called the national anthem a "special part of the pre-game ceremony" in a statement to NFL.com and said that they recognized "the right of an individual to choose and participate, or not, in our celebration of the national anthem" in respect to American principles like freedom of religion and freedom of expression. 
Kaepernick joins several other athletes who have recently used their platforms to speak out against structural racism and police brutality, including several members of the WNBA, who faced fines after wearing shirts in solidarity with Alton Sterling and Philando Castile, victims of police violence. 
People on Twitter commented on Kaepernick's decision not to stand during the anthem. 
The backlash against Kaepernick was much like the faux-patriotic vitriol Olympian Gabby Douglas suffered when she did not salute the flag during the 2016 Rio Olympics. 
The difference? Douglas's was a mistake, unlike Kaepernick. She apologized on Twitter and brought home the gold for the United States while everyone else sat on Twitter. 
Several people on Twitter also applauded Kaepernick for exercising his constitutional rights to bring awareness to America's police brutality epidemic.
Kaepernick said he is prepared to deal with the consequences. 
"This is not something that I am going to run by anybody," he said to NFL.com. "I am not looking for approval. I have to stand up for people that are oppressed. ... If they take football away, my endorsements from me, I know that I stood up for what is right."
While it is completely within other people's and corporation's first amendment rights to distance themselves from Kaepernick, let's hope it's not just because he was practicing his first amendment rights to stand up for people of color.