11 images that show the burkini is both beautiful and powerful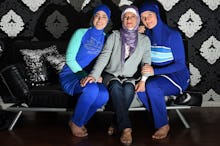 The burkini is the most talked about bathing suit in the world right now and it's also incredibly in demand, according to the suit's inventor.
"They've misunderstood the burkini swimsuit," Aheda Zanetti, the suit's creator, told the New York Times. "Because the burkini swimsuit is freedom and happiness and lifestyle changes — you can't take that away from a Muslim, or any other woman, that chooses to wear it."
Three French cities — Cannes, Villeneuve-Loubet and Sisco — banned the burkini earlier in August, which sent sales skyrocketing up 200% — and only half the customers were Muslim. After tension between Muslim women and French police, French court overturned the ban. 
Women have worn them to protest Islamophobia. 
They've worn them to model.
They're great for swimming under water, not just sitting on the beach. 
And, go snorkeling. 
Fitness instructors wear them.
Artists have used the burkini to protest women being told what they can and cannot wear. 
Muslim women save lives in burkinis. 
Women challenge stereotypes of what a Muslim woman looks like in burkinis. 
They do yoga in the middle of nature. 
And, of course, they look fabulous in them. 
Whether on the beach, poolside or in the water, the burkini proves that the best garment for women to wear on the beach is whatever they choose to wear.