White Lives Matter is a "flat-out white supremacist group," says SPLC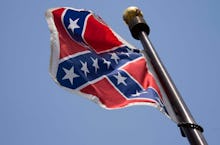 The Southern Poverty Law Center, a nonprofit organization which tracks hate groups across the U.S., is set to officially regard a group called White Lives Matter as a white supremacist group, the Houston Chronicle reported Saturday.
Heidi Beirich, who runs the SPLC's Intelligence Report, told the site White Lives Matter appears to be "just a flat-out white supremacist group" and will be added to the nonprofit's official log of hate groups in February.
White Lives Matter, which conducted a Confederate flag-waving protest outside the headquarters of the Houston NAACP on Aug. 21, is led in part by a woman named Rebecca Barnette who is "also the vice president of the women's division of the skinhead group Aryan Strikeforce," the Chronicle wrote. Other elements of the group's protests, such as posters saying "14 Words," are references to elements of neo-Nazi ideology.
The group's website contains numerous references to the challenges facing "the white way of life," and other White Lives Matter members belong to Texas-based racist and fascist groups, according to an SPLC report.
The Chronicle previously reported the group was armed at its Aug. 21 rally, with some members carrying assault rifles and others wearing military-style vests.
"We came out here to protest against the NAACP and their failure in speaking out against the atrocities that organizations like Black Lives Matter and other pro-black organizations have caused the attack and killing of white police officers, the burning down of cities and things of that nature," White Lives Matter protester Ken Reed told the site.
"It's not a real movement at all," SPLC senior fellow Mark Potok told USA Today. "These are a few very small Neo-Nazi, Klan, and similar groups that have formed to push this narrative into the main stream." He added flyers bearing the group's name had been previously distributed in Houston by another organization, the Aryan Renaissance Society.