Nicki Minaj and Ariana Grande perform "Side By Side" at the 2016 VMAs — and Twitter's torn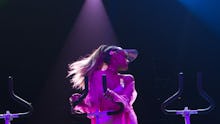 It's Nicki and Ari — if you test them, be sorry. 
Rapper Nicki Minaj and powerhouse pop starlet Ariana Grande took the 2016 MTV Video Music Awards stage together to sing perform "Side to Side," the reggae-tinged third single from Ariana Grande's third studio album Dangerous Woman.
Minaj wore her signature light shade of pink and delivered a fire verse while slowly sauntering to meet Grande center stage.
Grande brought a physical fitness aesthetic to her performance. She began in a cycling class, lifted some weights and then eventually joined Minaj to bring some male weightlifters to their knees.
A large swath of Twitter was here for the performance.
But others felt the performance was a tad underwhelming. 
The two have shared the VMA stage previously in 2014. After performing their hits "Break Free" and "Anaconda" separately, they joined British singer Jessie J to perform their multiplatinum hit "Bang Bang." During the performance, Minaj famously suffered a perhaps-staged wardrobe malfunction that forced her to perform her rap while clutching at her dress.   
In 2015, Minaj dominated the VMAs, first by squashing her false beef with Taylor Swift in an epic scheduled performance and then by upstaging host Miley Cyrus with an off-the-cuff career-derailing remark — "Miley, what's good?" — in response to an interview Cyrus gave criticizing Minaj's personality. 
With fans split on their feelings for this performance, this one might not go down in history the same way. But every fan can decide for themselves. Watch the full video below:
Aug. 29, 2016, 9:16 a.m.: This post has been updated to include video.