Britney Spears' lip sync-heavy 2016 VMA performance will make you yearn for the 2000s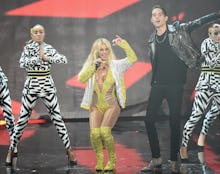 Oops — she did it again. Pop queen Britney Spears returned home on Sunday night, and by home, we mean the MTV Video Music Awards stage. 
Whether it's locking lips with Madonna in 2003 during "Like a Virgin," dancing with a large yellow snake in 2001 during "Slave 4 U" or stammering and slow-dancing through "Gimme More" in 2007 — a Spears performance is always a headline-making event at the VMAs. 
This one won't be one of her finer headlines.
Performing "Make Me" from her ninth studio album Glory, released on Friday to the delight of her fans everywhere, Spears lit up the stage with a stripped-down performance featuring shadow projections and Vegas-level lights. 
Joined on stage by rapper G-Eazy, Spears lip-synced her way through a sexually charged performance that saw the singer and the rapper embrace closely and share a post-performance kiss. 
Spears is not known for her vocal prowess, so her lip syncing wasn't too unexpected. She did insist in 2013 that she always sings live. "It doesn't sound so great all the time, but I do my best," she told Chicago's 103.5 KISS FM, according to Huffington Post. 
On the plus side, she did exhibit plenty of pep during her choreography. Britney got up and down on the floor — and through the legs of G-Eazy. 
Twitter had plenty to say about the performance.
Luckily, for all of Spears' fans, there's still a litany of performances from the 2000s to remember your favorite pop princess by. Fans should just go rewatch those.
Aug. 28, 2016, 11:31 p.m.: This post has been updated.