Portland Public Schools accused of racism over rap music ban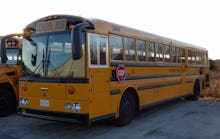 Oregon's Portland Public Schools district is reconsidering a ban on bus drivers playing rap music — as well as talk radio or religious programs — after parents and others widely criticized the policy as racially charged, the Washington Post reported this week.
In a March directive, Portland Public Schools' transportation director Teri Brady wrote "This list excludes any radio stations that may be in any way offensive to any student riding a PPS bus, either a District or any contract vehicle," according to the Oregonian. "The stations that are deemed inappropriate include any religious, rap music or talk show programs."
Parent Colleen Ryan-Onken originally discovered the memo, according to the Oregonian. She told the paper "I think it's overtly racist and leaves out two of our major communities in our music choices ... When you outlaw a kind of music that is very indicative of the modern culture of one group of people you're basically saying that they're not welcome."
"Why would rap music be singled out as offensive and country music and pop music was not?" another parent of a PPS student, Kim Sordyl, told WUSA 9. "It appears to me this equity spending is just a big waste of taxpayer money when we've got somebody sending out Archie Bunker-type letters to school bus drivers."
As some pointed out, the blanket ban on rap music potentially white-washes problematic themes in other forms of music and sends the signal rap is broadly inappropriate without providing other context.
According to the Post, Portland Public Schools has more than "49,000 students in prekindergarten through 12th grade — more than 55 percent of them are white, 16 percent are Hispanic and 10 percent are African American, according to 2015-2016 enrollment figures."
The policy is now being reconsidered after the outcry.
"We regret the way this was communicated. Our intent is to limit student exposure to religious teachings, profanity and violent lyrics," Portland Public Schools spokeswoman Courtney Westling said in a statement, according to the Oregonian. "The transportation department will be revising its guidance to bus drivers shortly to be more inclusive of different genres of music."