Nate Parker re-examines his 1999 rape case, realizes male privilege is real and dangerous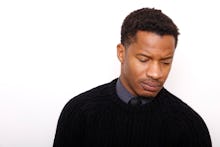 When a 17-year-old rape allegation against Nate Parker resurfaced recently, threatening the success of his widely acclaimed film, The Birth of a Nation, Parker went on the defensive: He called the trial "a very painful moment in my life," but one on which the book had long closed. In an exclusive interview with Ebony published Saturday, Parker said his reaction was "selfish," the product of his "toxic masculinity" and failure to understand "my privilege as a male."
"I was acting as if I was the victim, and that's wrong," he said. "I didn't even think for a second about her, not even for a second."
Concepts of consent are changing: Parker said consent wasn't a thing he knew very much about at age 19, when he and his friend (and Birth of a Nation co-writer), Jean Celestin, were accused of having sex with an intoxicated woman while she was unconscious. The conversation about consent "wasn't a conversation people were having" in 1999, Parker told Ebony. 
"If a woman said no, no meant no," he said. "If she didn't say anything and she was open, and she was down, it was like how far can I go?"
That line of thinking is evidenced in court documents from the case — in transcripts of a phone call recorded without Parker's knowledge, which is illegal, he tells the victim she never "did anything or said anything to assure that you didn't want to do what you were doing." The woman, however, maintained she was unconscious during the encounter, and couldn't consent to anything. 
Parker wants to learn from his mistakes: He paid attention to the backlash his recent comments on the case generated, and asked some female friends where he went wrong. He realized that men enjoy a lot of privilege, but often fail to see it because "if it's in the air they breathe and the culture supports them, sometimes they never have to think about it at all." 
"I'm understanding that I'm dealing with a problem, like an addiction," he said. "Just like you can be addicted to white supremacy and all of the benefits, you can be addicted to male privilege and all of the benefits that comes from it. It's like someone pointing at you and you have a stain on your shirt and you don't even know it."
With The Birth of a Nation, which tells the unvarnished truth of Nat Turner's slave rebellion, Parker aims to instigate an "honest confrontation" about slavery and its legacy, but if he wants to become a leader, he said, he needs to look at inequality as a bigger picture — one involving women and LGBTQ individuals. He has a long way to go, but he wants to make the effort. .
"I'm a work in progress," he said. "I'm trying to be better."