At the MTV VMAs, Rihanna proved what a fashion icon really looks like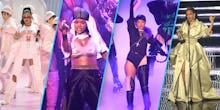 At the 2016 MTV Video Music Awards on Sunday night, the Barbadian queen of sheer clothing and ignoring Drake, Rihanna, couldn't just keep to one outfit and call it a night. No, with four entirely different performances during Sunday night's awards show, Rihanna knew she had to change it up, and that each look had to excite us. 
Fortunately, that's exactly what she accomplished (no surprise there), further proving her prowess when it comes to daring, forward-thinking fashion. 
For her first performance of the night, in which she opened the show singing a mash-up of "Don't Stop the Music," "Only Girl (in the World)," "We Found Love" and "Where Have You Been," Rihanna opted for a baby pink ensemble comprised of a Hood by Air T-shirt and a spin on her Manolo Blahnik shoes, but rather than looking like a belt attached to a pants and heels hybrid, it was more like a miniskirt attached to a pants and heel hybrid.
She is the only woman on planet earth that could pull this look off. Plus, she paired it with a bright pink pair of sunglasses. 
For her second performance, she veered into a more urban aesthetic by slipping into a pair of wide-legged trousers, a furry pink bra and a do-rag wrapped around a white T-shirt on her head as she sang a remixed medley of "Rude Boy," "What's My Name?" and "Work," while standing in front of a massive crowd of dancers dressed similarly. 
And yet again, she is the only person alive who could pull this off without it looking like a low-budget remake of Do the Right Thing. 
For her third performance of the night, during which she performed yet another remix made up of "Needed Me," "Pour It Up" and "Bitch Better Have My Money," she slipped into a more sophisticated look, with her hair shaped into something resembling a long, black mullet as she wore a goth-inspired leotard with leather gloves, black leather boots that looked like they were basically peeling off of her and a huge coat trimmed with purple fur. 
And while that showed Rihanna taking a dark turn, in a matter of minutes she had changed once again for her fourth and last performance of the night, gliding onstage in a luscious light gold gown that nipped in the waist with a bejeweled sash to sing a medley of "Stay," "Diamonds" and "Love on the Brain."
She looked like a princess transported from the future, or even a fashionista bride. And that ended up being a pretty apt look because when she was awarded MTV's Video Vanguard Award, Drake got onstage and effectively professed his love for the songstress. 
And how did she respond? By first dabbing and then swiftly swerving away from a kiss on the mouth from the rapper who can't get a hint. 
A true icon.
Over the course of a more than two-hour show, Rihanna was able to transform herself for each performance, going beyond just dress changes to changing her entire aesthetic for each performance. And that alone showed us not only what a daring artist looks like, but what a fearless style icon looks like too.