Beyoncé's 2016 VMAs dress made her look like an actual angel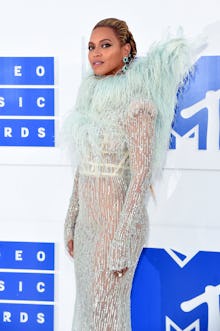 At Sunday's MTV Video Music Awards, Beyoncé walked the red carpet wearing a sheer, sparkly dress with an elaborate sea foam green feather shoulder adornment designed by Francesco Scognamiglio. 
Her daughter, Blue Ivy, walked beside her. The two quickly rushed down the carpet (which was actually white for the VMAs) looking like they had both stepped right out of heaven.
They weren't alone, either. A number of women from Beyoncé's video for "Freedom" were in attendance, including model Winnie Harlow and actress Quvenzhané Wallis, as well as the mothers of Trayvon Martin, Mike Brown, Eric Garner and Oscar Grant, who were featured in her "Forward" video.
Over on Twitter, people were thrilled and also a little puzzled with her look, saying that it makes her look like a snow queen — not that it's a bad thing, of course. 
And compared to her two previous appearances at the VMAs, in 2014 and 2011, Beyoncé's fashion is only getting more theatrical. 
Prior to the show, rumors had been swirling about whether or not Beyoncé would be in attendance. And with this stunning red carpet appearance, it looks like we may be getting a VMA performance from Bey after all.