India's tourism minister advises female tourists not to wear skirts to avoid being raped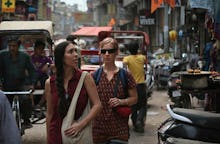 On Sunday, India's tourism minister raised eyebrows when, in an attempt to tackle the country's staggering problem with gender-based violence, Minister Mahesh Sharma recommended female travelers steer clear of skirts and avoid the streets at night, the Guardian reported.
As Sharma explained, it's "for their own safety."
"Women foreign tourists should not wear short dresses and skirts," he said. "Indian culture is different from the Western."
Speaking from the city of Agra — home to the Taj Mahal, one of the world's most popular attractions that sees between 7 and 8 million visitors each year — Sharma said that tourists are issued welcome kits containing "dos and don'ts" for their stay; among them are tips on how women should dress.
In 2015, two men grabbed an American woman walking through a market in northern India and raped her. That same month, a Japanese woman was drugged and raped by three men. In November 2015, a Russian woman was attacked by the son of her host, who threw acid on her as she slept. In 2014, five men gang-raped a Danish tourist.
Sexual violence is, of course, a reality for Indian women, too. According to the National Crime Records Bureau, 93 women are raped every day in India. 36,735 rape cases were reported in 2014, but considering that the majority of incidents never get reported to authorities, the actual number of rapes committed is likely much higher than that — and what's more, it's been rising steadily for the past few years. 
Violence against women in India is often fueled by men's anger at women dressing "immodestly." 
"India is a horribly patriarchal society," Jayati Ghosh, an economics professor from Jawaharlal Nehru University, told Mic in 2015. While movies, television and advertising are increasingly divergent from traditional culture — and as women become more visible and more active members of Indian society — the problem has worsened, Ghosh said. 
Blaming victims for their assaults is a problem not limited to India. A number of countries have similar advisories for female tourists headed to the subcontinent. The United States advises women "not to travel alone in India" and to "respect local dress and customs," which is to say, opt for "conservative" clothing that "covers their legs and shoulders," especially in rural areas. 
Sharma walked back his statement later Sunday, saying he was simply encouraging travelers to "take precaution." 
"The problem is men and boys in India," Ranjana Kumari, the director the Centre for Social Research in Delhi told the Guardian. "They go for all kinds of misogyny and sexual acts, rapes and gang-rapes. It's important for [Sharma] to have said how to punish the perpetrators of crime and stop the nonsense of ogling women and following them."