Rihanna slayed her 2016 VMAs performances, proving she deserves her video vanguard award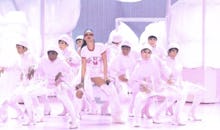 Rihanna work, work, work, work, worked for her MTV video vanguard award Sunday. The Barbadian-bred pop star lit the MTV Video Music Awards stage on fire with her opening performance, which featured a medley of her greatest hits including "We Found Love," "Don't Stop the Music" and "Only Girl."
The singer accepted the coveted Michael Jackson video vanguard award, and in her introductory performance she once again proved that she's got the necessary vision to hold that title. 
Rihanna stepped out onto a baby pink stage, donning her new collaborative Fenty x Dior shades and baby pink Hood By Air T-shirt, as pink neon lights lit the floor beneath her and her dancers. She slayed her first performance and came back for another three scattered throughout the night — something some fans did not think they could would be able to handle.
Her second performance was a dancehall-meets-reggae-meets 2016 pop with "Work" and "Rude Boy," among other notable hits. It was a total onstage celebration, with a collection of Ri's friends, dancers and extras turning up with Caribbean-infused choreography.
RiRi stepped out once again for her third performance with a seemingly new haircut she received backstage in the last minute. She crooned her way through "Needed Me" before breaking into "Pour It Up" and "Bitch Better Have My Money," paired with thunderous, synchronized choreography. 
Backed by a complete brass orchestra, she finally brought the house with her 2012 ballad "Stay," and the emotional "Diamonds," both of which she sang flawlessly.
It was RiRi at her best — showing off her eclectic, incredible growth over the course of an unprecedented career and life in the limelight. Her vocals weren't always on point, but she embodied each style with a confidence and ferocity befitting of an icon. 
Drake came out in a tuxedo at the end of her final performance to talk about their history of working together and her incredible mainstay power in the industry. 
"She is someone I have been in love with since I was 22 years old," he said. 
Accepting this video vanguard award, Rihanna will follow in the footsteps of the ever-controversial Kanye West, who used his 2015 acceptance speech to announce his candidacy for president in 2020. 
"This is the first vanguard to land anywhere close to my country," Rihanna said while accepting her award. "My success started as my dream ... Now it's my fans, it's my country, the Caribbean as a whole, women, black women ... There's just so much growth that has happened over the last 11 years and I just can't believe I'm receiving the Michael Jackson vanguard award at 28 years old."
There's no denying Rihanna is deserving of her incredible award tonight. Between working with avant-garde artists and directors for the violent and sexually charged "Bitch Better Have My Money" and "Needed Me," to the sex-positive "Kiss It Better" and "Pour It Up," Rihanna has continually defied expectations, liberating herself and her music more with each album.
Slay and dab on, queen.
Aug. 29, 2016, 10:02 a.m.: This post has been updated.