Kanye West gives confused VMAs speech on 'Famous' and police brutality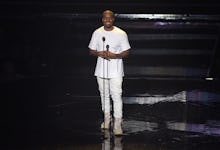 What would the MTV Video Music Awards be without Kanye West? Pedestrian? Safe? Sane?
Hip-hop's number one mad genius has been author of the some of the biggest stirs in VMA history: the epic 2008 Daft Punk neon pyramid performance, the infamous 2009 Taylor Swift incident, 2015's presidential announcement. The VMAs know that given the opportunity, Kanye will bring the heat, which is why they gave him four minutes of free reign to do whatever he wants (it went on well past four minutes.)
"I came here to present my new video," he told the crowd, "but before I do that, Imma talk" — to wild applause. But the enthusiasm quickly turned to head scratching as West's visionary stream of consciousness got more confused by the minute.
West started talking about his "Famous" video, addressing some of the decisions he made putting Ray J, Republican presidential nominee Donald Trump and Anna Wintour all together in one bed.
"We came over in one boat, now we in the same bed," West said, before correcting himself. "Well maybe different boats."
He then moved into talking about police brutality in his hometown of Chicago, citing last week's death count.
"So I was speaking at the art institute last year and one kid came up to me and said three of my friends died and I don't know if I'm going to be next," West said. "If you feel like you see people dying next to you, like what's the point? Life might feel worthless in a way."
In moments like these, West said he turns to his role models, naming: "Truman, Ford, Hughes, Disney, Jobs," and of course:  "West." 
"Tonight, we're here to have fun," he said. "I'm standing in front of my idol, Puff Daddy. I'm standing in front of my wife, Kim Kardashian West. I'm standing in front of the future, Chance The Rapper."
"We are undeniably the influencers, the thought leaders," West said. "I'm going to play y'all a piece of my art, and I just hope ya'll have a good time." 
That "art" was a new video for "Fade" featuring Teyana Taylor, where she appears as a cat woman posing with Iman Shumpert.
The speech comes with a heavy dose of irony, as West was highly critical of the VMAs during his last speech at the awards show in 2015. 
"You know how many times MTV ran that footage again, because it got them more ratings?" he said. "You know how many times they announced Taylor was going to give me the award 'cause it got them more ratings? ... I still don't understand awards shows."
Award shows seem to understand Kanye: give him a mic and something — brilliant, confused, powerful, messy, sometimes all four at once — will happen.
Watch the full video and read a partial transcript of the speech below, courtesy of Esquire:
I came here to present my new video, but before I do that, Imma talk. Now, later tonight, "Famous" might lose to Beyonce, but I can't be mad, I'm always wishing for Beyonce to win, so...
Aug. 29, 2016, 9:13 a.m.: This story has been updated.